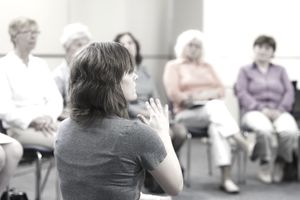 A health educator teaches individuals and communities how to live healthy lifestyles to prevent problems that can shorten their lives or, at least, make them unpleasant. They help their students learn how to eat nutritious diets that are low in sodium, sugar, and fat and avoid unhealthy activities like smoking and drinking excessively.
Quick Facts
In 2015, health educators earned a median salary of $51,960 per year.
About 61,000 people worked in this occupation in 2014.
Governments, hospitals, and ambulatory health care services employed the majority of health care educators.
The job outlook for this occupation is excellent. The U.S. Bureau of Labor Statistics predicts employment will grow faster than the average for all occupations through 2024.
A Day In a Health Educator's Life
These are some typical job duties taken from online ads for health educator positions found on Indeed.com:
"Provide health and wellness education and advocacy for health care"
"Evaluate, design, present, recommend and disseminate high quality, culturally appropriate health education information and materials"
"Perform intakes on new and re-enrolling adults in the infectious disease program"
"Facilitate classes according to the organization's guidelines"
"Maintain patient log of all patients scheduled for procedures"
"Plan and implement programs and treatments specifically designed to address the patient's needs"
"Consult with physicians and staff regarding related health education services"
Educational and Other Requirements
To get an entry-level position as a health educator, you will need a bachelor's degree which should be in either health education or health promotion with coursework that includes psychology and human development.
Being bilingual will make you more marketable as a job candidate.
For more advanced positions or if you want a government job as a health educator, you will have to earn a master's degree in a discipline like public health education, community health education, school health education, or health promotion. Your bachelor's degree, in this case, may be in another major.
You can, if you choose, become a Certified Health Education Specialist. While this certification from the National Commission for Health Education Credentialing, Inc. is voluntary, many employers will only hire job candidates who have it. To take the exam that leads to earning this designation, you must have already completed, or be close to completing, a bachelor's degree in health education or promotion. Seventy-five hours of continuing education classes every five years are required to maintain it.
What Soft Skills Do Health Educator's Need?
In addition to formal education and certification, one also needs certain soft skills, or personal qualities, to succeed in this occupation.
Provide Instruction: You must be able to teach someone how to do something.
Communication: Excellent listening and speaking skills allow health educators to understand their students' concerns and convey information to them.
Interpersonal Skills: In addition to being able to listen and speak to people, you must be able to understand their non-verbal cues. You will also need the ability to persuade them and negotiate with them.
Writing Skills: Health educators must put together written materials used in teaching.
Problem Solving: Excellent problem solving skills will allow you to identify the issues facing your students and develop ways to address them.
What Will Employers Expect From You?
We again surveyed job announcements on Indeed.com to learn about the qualifications, other than technical skills and experience, employers are seeking. Here's what we found:
"Maintains confidentiality of patients at all times by complying with HIPAA policies"
"Demonstrated ability to present effectively to diverse audiences"
"Highly proactive, flexible, works independently"
"Sensitivity to cultural, ethnic, and gender orientation differences"
"Must possess excellent internet and computer skills"
"Ability to interpret work plans and convert needs into comprehensive educational programs"
Is This Career a Good Fit?
Holland Code: SEA (Social, Enterprising, Artistic)
MBTI Personality Types: ENFJ, INFJ, ENFP, INFP (Tieger, Paul D., Barron, Barbara, and Tieger, Kelly. (2014)  Do What You Are. NY: Hatchette Book Group.)
Occupations With Related Activities and Tasks
| | | | |
| --- | --- | --- | --- |
|   | Description | Annual Salary (2015) | Educational Requirements |
| School Counselor | Advises students in elementary and secondary schools | $53,660 | Master's degree in school counseling |
| Mental Health Counselor | Helps clients with mental and emotional disorders | $41,880 | Master's degree in a mental health-related field |
| | Applies psychological principles to help students deal with academic and developmental issues | $70,580 | Advanced degree or Ph.D. in school psychology |
| Social Worker | Helps people cope with challenges including aging, mental illness, chronic disease, and addiction.  | $42,350-58,560 | Bachelor's/Master's Degree in Social (BSW/MSW) |
Sources:
Bureau of Labor Statistics, U.S. Department of Labor, Occupational Outlook Handbook, 2016-17 (visited March 15, 2017).
Employment and Training Administration, U.S. Department of Labor, O*NET Online (visited March 15, 2017).