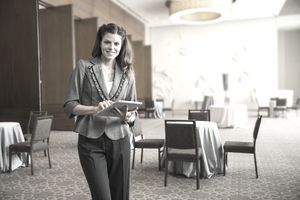 Do you enjoy planning big parties and do you like working with people? Are you good at negotiating and networking? You might consider becoming a wedding planner. People who work in this field are also known as wedding or bridal consultants. Many are self-employed while others work for wedding or event planning companies.
Even though fewer people are getting married, according to various statistical sources, those who are taking this step are older.
That means, that generally speaking, couples are more established and therefore have more money to spend on their special day. It also means they are so busy with work, they probably do not have a lot of time to plan their own affairs. That's where professional help comes in.
What Does a Wedding Planner Do?
From African Wedding Guide: "...the role of the wedding consultant is that of a facilitator, mediator, money manager, artisan, and constructor of dreams." If you've ever been a bride, a groom, or even a bridesmaid, you also know the kind of stress planning a wedding can bring about. Add to the above description, therapist, sounding board, mediator, and even punching bag, figuratively of course, when frazzled nerves come into play.
Required Training and Education
Many wedding planners are trained as event planners and then specialize in wedding planning. For some,​that means earning a bachelor's degree in hospitality management or a related field.
Others have no formal training and learn their skills on-the-job. Those who are self-employed should first learn how to manage and promote their own businesses.
Certain soft skills—character traits that one usually doesn't acquire through formal training— will help you be successful in this job. You must be able to remain calm in the face of adversity.
You must also be personable and, as mentioned earlier, a good negotiator. You are the mouthpiece for the bride and groom when it comes to finding a venue and hiring a florist, band, photographer, and caterer. You must be able to get them the best service for the lowest price. Your reputation will depend on it. The ability to network is also important. If you can establish good connections, it will help you get the best deals possible. That's not all. Running your own business, as well as handling other people's money, requires you to be adept at handling finances. You must also be very well organized.
A wedding planner must have a good fashion sense. You must know about color, music, and flowers. A good knowledge of religions is also imperative since a wedding ceremony is often a religious one. Related to this is a knowledge of customs and traditions, which are also part of many wedding ceremonies. Plan to spend a lot of time reading the current bridal magazines, of which there are many, to keep up with the latest trends.
Earnings
Event planners who worked for others earned a median annual salary of $46,020 and median hourly wages of $22.13 in 2011 (US). While wedding planners fall under this category, their earnings may differ.
Earnings for those who are self-employed vary depending on their fee structures. According to the knot, wedding planners charge either a flat fee, an hourly rate or a percentage of the total wedding bill, ranging from 10 to 20 percent. They encourage couples to set aside 15 percent of their budgets. Another article on the knot says that a wedding costs, on average, about $28,400. That would mean wedding planners could earn average fees of about $4200. An article on Enterpreneur.com reports a lower fee. They say that spending on planners is $1466 per wedding.​​
Start-up Costs
Anyone thinking about opening a business must consider start-up costs. These costs for a wedding planning business can be under $2000, according to Entrepreneur.com, since one can work from his or her home. Although you may not need office space, you still need to budget for office equipment, marketing your business and purchasing appropriate work clothing.
Resources
Association of Bridal Consultants
The official organization of the wedding industry.
So You Want to Be a Wedding Consultant
From African Wedding Guide. Includes a very good list of necessary skills and some practical considerations.