List of Famous and Celebrity Women High School Dropouts
Successful Women Who Dropped Out But Still Made It Big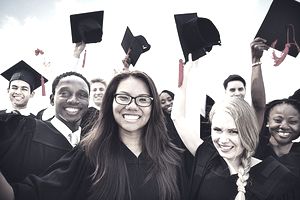 Dropping out of high school is not a wise choice, even if it sometimes is necessary due to extenuating circumstances. The vast majority of students who do drop out never become rich or famous, and are statistically unlikely to even ever make it very far in the business world.
However, there are successful women who dropped out of high school and made it big without an education. But, as the list shows, most of these women made it on talent in the ​entertainment industry and not in the traditional business world.
Some of the women on the list below went back to school or got a GED, others just launched their careers.
Alphabetical List of Famous and Celebrity Women High School Dropouts
Christina Aguilera, Musician
Julie Andrews, Actress
Christina Applegate, Actress
Joan Armatrading, Musician
Brooke Astor, New York Philanthropist, Presidential Medal of Freedom Recipient
Pearl Bailey, Musician
Josephine Baker, Musician
Lucille Ball, Actress
Brigitte Bardot, Actress
Roseanne Barr, Comedian, Star of Two Variety Shows
Drew Barrymore, Actress
Shirley Bassey, Musician
Anne Beiler, Founder, Auntie Ann's Pretzels
Karen Black, Actress
Mary J. Blige, Rap Star
Clara Bow, Actress
Barbara Taylor Bradford, Author
Erin Brockovich, Legal Assistant, Consumer and Environmental Activist, Entrepreneur
Louise Brooks, Actress
Margaret Brown, Philanthropist, Titanic Survivor/American Socialite
Abner Burnett, Musician
Ellen Burstyn, Actress
Gisele Bündchen, Model
Neve Campbell, Actress
Jennifer Capriati, Tennis Player, Won the Gold Medal in 1992
Viki Carr, Musician
Liz Claiborne, Fashion Designer
Toni Collette, Actress
Jackie Collins, Author
Joan Crawford, Actress
Beverly D'Angelo, Actress
Majandra Delfino, Actress
Bo Derek, Actress
Princess Diana, Philanthropist, Princess of Wales
Cameron Diaz, Actress
Celine Dion, Musician
Patty Duke, Actress
Jeanne Eagels, Actress
Lola Falana, Musician
Carrie Fisher, Actress
Ella Fitzgerald, Musician
Aretha Franklin, Musician
Eva Gabor, Actress
Greta Garbo, Actress
Jennie Garth, Actress
Mary Gauthier, Musician
Whoopi Goldberg, Comedian
Susan Hampshire, Actress
Beth Hart, Musician
Margaux Hemingway, Actress
Fiona Horne, Musician
Lena Horne, Musician
Janis Ian, Musician
Iman, Actress
Natalie Imbruglia, Musician
Elizabeth Jagger, Model
Joan Jett, Musician
Angelina Jolie, Actress
Jenny Jones, Talk Show Host
Rickie Lee Jones, Musician, Talk Show Host
Chaka Khan, Musician
Nicole Kidman, Actress
Eartha Kitt, Actress
Gladys Knight, Musician
Cyndi Lauper, Musician
Avril Lavigne, Musician
Henrietta Leaver, Model, 1935 Miss America
Fran Lebowitz, Author
Jennifer Jason Leigh, Actress
Doris Lessing, Author
Juliette Lewis, Actress
Julie London, Musician
Trini Lopez, Musician
Traci Lords, Actress
Courtney Love, Musician
Loretta Lynn, Country Music Star, Country Music Hall of Fame
Shelby Lynne, Musician
Mary Lyon, Founder, The First American Woman's College (Mount Holyoke College)
Gwendolyn MacEwen, Poet
Jena Malone, Actress
Shirley Manson, Musician
Sophie Marceau, Actress
Vanessa Marcil, Actress
Audrey Marnay, Model
Moa Martinson, Author
Elaine May, Screenwriter
Kelly McGillis, Actress
Florence Melton, Inventor, Foam Lined Slipper and the Removable Shoulder Pad
Natalie Merchant, Musician
Melina Mercouri, Political Activist, Actress
Alyssa Milano, Actress
Heather Mills, Model, Nobel Prize Winner
Liza Minnelli, Musician
Ruth Ann Minner, Governor, Delaware's First Woman Governor 2001-05
Marilyn Monroe, Actress
Demi Moore, Actress
Samantha Mumba, Musician
Olivia Newton-John, Musician
Florence Nightingale, Nursing Pioneer
Sinead O'Connor, Musician
Annie Oakley, Entertainer, Old West Sharpshooter/ Wild West Performer
Kelly Osbourne, Musician, Talk Show Host
Elisha Otis, Inventor, Otis Elevator
Rosa Parks, Civil Rights Activist
Evita Peron, Politician, First Lady of Argentina 1946-1952
Mary Pickford, Founder, United Artist Corporation
Pink, Musician
Sarah Polley, Actress
Teri Polo, Actress
Paulina Porizkova, Model
Leah Remini, Actress
Mary Lou Retton, Olympic Gymnast and Gold Medal Winner
Nora Roberts, Author
Ann Marie Roberts, Olympian in 2000 Olympic Games
Theresa Russell, Actress
Rene Russo, Actress
Catya Sassoon, Actress
Alicia Silverstone, Actress
Anna Nicole Smith, Actress, The Anna Nicole Show
Donna Summer, Musician
Hilary Swank, Actress,
Valentina Tereshkova, Cosmonaut, First Woman in Space
Andrea Thompson, TV Host, CNN Headline News
Uma Thurman, Actress
Tanya Tucker, Musician
Twiggy, Actress
Tracey Ullman, Comedian
Gloria Vanderbilt, Fashion Designer
Diana Vreeland, Editor
Nancy Walker, Actress
Susan Ward, Actress
Estella Warren, Actress
Naomi Watts, Actress
Kitty Wells, Country Music Star
Mae West, Actress
Lucinda Williams, Musician
Kate Winslet, Actress
Tammy Wynette, Musician
Mildred "Babe" Zaharias, Olympian, Track and Field Six Gold Medals, National Women's Hall of Fame
Catherine Zeta-Jones, Actress