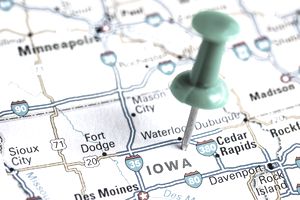 While it seems like a work at home call center job could be done from anywhere in the U.S., unfortunately that is not necessarily the case. Very few home call center companies hire in all 50 states. However, these call center companies hire for work-at-home positions in Iowa:
Accolade Support  
Technical support agents and customer service representatives services this company's clients from their homes.
All are independent contractors and are paid on per-minute rate with a maximum of $10 per hour but there is no minimum.
Alorica 
Alorica, formerly West at Home, remote employees to work as  customer service reps. They are compensated with a per-minute or per-call basis but will earn at least minimum wage.
Apple At-Home Advisors
Apple's work-at-home call center program that hires both college students and non-students. Use the keyword "home" in the company's job database.
ARO
Employees of this company work in a range of call center jobs jobs including sales and customer service. Additionally ARO employs insurance auditors and LPNs and RNs to work from home.
Asurion
Extended warranty company (formerly known as NEW Corp) pays home-based customer care reps $9-10 per hour to take in-bound calls. It hires both work-at-home and office-based call center agents to troubleshoot and provide customer service for its clients.
Hires agents bilingual in Spanish/English also. More Bilingual Call Center Jobs
Convergys 
Virtual call center agents receive incoming calls and provide services that may include customer service, sales or technical support. Convergys offers paid training and benefits. Schedules 16 to 40 hours per week.
See reader reviews of Convergys.
Carenet Healthcare Services
San Antonio-based medical call center company hires registered nurses to work from home in its "care advisor" positions. Pay is $25/hr. Other call center jobs for non-nurses in the company are not work at home. Full-time, overnight work may be available and/or required See more nursing jobs from home.
Expert Global Solutions (EGS)
Most of EGS's customer service jobs are brick-and-mortar, the company does have a  work-at-home division that has jobs for both agents and for supervisors.
LiveOps
Company hires agents, including licensed insurance agents, for a variety of call center jobs for its clients including outbound sales, bilingual customer service (Spanish and French) and financial services. Agents are paid at a rate that is based on minutes of talk time plus sales incentives in some cases. Agents must become "certified" to work for individual clients. This certification is not paid. Applicants pay $50 (or sometimes more) for background check. See more French-speaking jobs from home.
The Newton Group
Elite Sales Associates (ESA) set appointments, make sales and conduct market research from their home offices. Experience in telemarketing, customer service, lead generation or appointment setting is required.
Must purchase some equipment from Newton, Associates must work a minimum of 20 hour a week.
PointClickCare
Cloud-based medical record system hires customer support and sales professionals with knowledge of medical documentation systems to work from home.
Sitel
Global BPO Sitel has a work-at-home program for U. S. residents called Sitel Work@Home. Agents in these full- and part-time customer service jobs train from home.
Support.com
Company provides tech support services for its clients, using work-from-home chat and call center agents. Its remote services technicians answer inbound calls.
SYKES Home Powered by Alpine Access
Home-based agents take in-bound customer service and sales calls for a variety of clients. Reps are paid an hourly rate of around $9 plus training is paid. Only after a position is offered, applicants pay $45 for a background check.
Minimum of 20 hurs a week to full-time work available. Bilingual skills a plus; languages include Spanish, Mandarin and Cantonese. More Bilingual Call Center Jobs
ThinkDirect
Company hires employees as inbound work-at-home agents, selling magazine subscriptions. Pay with incentives is $10-$14 an hour.
Transcom
Call center company hires work-at-home agents for customer service and tech support in Iowa.
U-Haul
Work-at-home call center employees take incoming calls and answer general questions, take reservation and/or provide roadside assistance. 
Ver-A-Fast
Home  call center agents make verification calls for company's clients, which are primarily from the newspaper industry.