Hospitality Job Titles and Descriptions
Restaurant, Hotel, and Other Hospitality Industry Job Titles Samples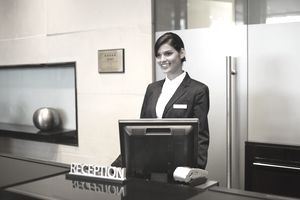 What job titles can you expect to see in hospitality industry job postings? The hospitality industry has a wide range of positions available. Many of these involve serving as support staff, dealing with customers face-to-face in a variety of ways.
But there are also administrative jobs that include positions in sales, marketing, and accounting. Food services jobs also abound in the hospitality industry – jobs include wait staff, food preparation, and chef.
Finally, there are many management-level jobs across these areas, including hotel manager, executive chef, and more.
Thus, jobs in the hospitality industry can involve lots of customer interaction, or be very behind-the-scenes.
The hospitality industry has many entry-level jobs, but you can also enter at a managerial level or climb the ladder from desk clerk to hotel manager or dishwasher to executive chef. Once you have experience within the hospitality industry, you may want to look into related positions.
Perhaps your job has a title that you'd like to see changed or elevated. The term waitress or bellhop might seem antiquated or too gender-based. What could you list as your job title instead of it? What would you prefer to see on your name tag that would show you provide professional service, or that you have a leadership role?
Browse this list of restaurant, hotel, resort, and other hospitality industry job titles.
You can use them in job searching or to encourage your employer to change the title of your position.
Most Common Hospitality Job Titles
Below is a list of some of the most common job titles from the hospitality industry, as well as a description of each. For more information about each job title, check out the Bureau of Labor Statistics' Occupational Outlook Handbook.
Concierge
A concierge interacts directly with customers, providing them with various services. They act as liaisons, providing guests with particular services they might need. These services could range from providing a babysitter to getting tickets to a show to suggesting a restaurant. At some hotels, this is an entry-level job. However, some luxury hotels require concierges to have years of experience.
Event Planner
Many hotels have conference rooms or event spaces that they rent out for various events, ranging from meetings to weddings. An event planner works with the company or individual to arrange the event, and make sure the event runs smoothly.
Executive Chef
Hotels with restaurants and/or room service have a number of kitchen jobs, including kitchen staff, waiters, and kitchen managers. One common job is executive chef. He or she must supervise all cooks, sous chefs, and other kitchen employees. He or she typically orders the food, plans the meals, and cooks in the kitchen.
Front Desk Clerk
A hotel front desk clerk (sometimes known as a front desk agent) serves as the first point of contact for all guests. They typically check guests in and out of their rooms, and answer any questions they have.
A front desk clerk needs strong customer service skills and good problem-solving abilities.
General Manager
There are a number of management-level jobs in hospitality, including supervisor of guest services, housekeeping supervisor, front desk supervisor, and kitchen manager. One broad management job is hotel general manager. He or she makes sure that everything is running smoothly in all departments, including customer service, food, building maintenance, and more. He or she oversees much of the staff, and ensures that guests are satisfied with their stays.
Housekeeper
Housekeepers are responsible for maintaining a standard of cleanliness throughout the hotel. They typically clean individual hotel rooms, as well as the common areas. They make beds, do laundry, clean bathrooms, and more. Being a housekeeper requires some physical stamina and strength, since you often have to lift heavy loads and be on your feet most of the day.
Porter
Also sometimes known as bellhops (though this is sometimes considered an outdated term), porters handle baggage for guests. They might bring the luggage up to guests' rooms, or take luggage down to the lobby when a guest's stay has ended. A related service job is a valet, whose job involves parking, and later retrieving, the cars of various guests.
Hospitality Job Titles List
Below is an extensive list of hospitality job titles, including those listed above. These are divided into broad categories, including general titles, managerial titles, and food service titles.
Hospitality Job Titles – General
Back Office Assistant
Bell Attendant
Bellhop
Bellman
Bellperson
Concierge
Concierge Agent
Crew Member
Director of Hotel Sales
Director of Hotel Operations
Driver
Event Planner
Front Desk Clerk
Front Desk Agent
Front Desk Associate
Front Desk Sales and Service Associate
Front Office Associate
Front Office Attendant
Front Office Associate
Gardener
Greeter
Groundskeeper
Group Sales Coordinator
Group Sales Manager
Guest Room Sales Manager
Guest Services Associate
Guest Services Coordinator
Guest Services Manager
Guest Service Representative
Guest Services Supervisor
Hotel Deposit Clerk
Hotel Group Sales Manager
Housekeeper
Housekeeper Aide
Housekeeping Supervisor
Lead Housekeeper
Manager, Special Events
Maintenance Supervisor
Maintenance Worker
Marketing Coordinator
Meeting Coordinator
Meeting Concierge
Meeting Planner
Meeting Specialist
Meeting Manager
Mini-Bar Attendant
Night Auditor
Night Clerk
Porter
Reservations Agent
Room Attendant
Room Service Manager
Room Service Worker
Team Member
Transportation Coordinator
Valet Attendant
Valet Parker
Valet Parking Attendant
Wedding Coordinator
Wedding Sales Manager
Hospitality Managerial and Supervisory Job Titles
Back Office Supervisor
Corporate Sales Manager
Director of Maintenance
Director of Marketing
Director of Operations
Director of Sales
Event Planner
Events Manager
Executive Housekeeper
Executive Conference Manager
Executive Meeting Manager
Front Desk Supervisor
General Manager
Guest Services Supervisor
Housekeeping Supervisor
Public Relations Coordinator
Public Relations Manager
Sales and Marketing Coordinator
Sales Coordinator
Sales Manager
Shift Leader
Shift Manager
Hospitality Food Service Job Titles
Backwaiter
Banquet Server
Banquet Manager
Bartender
Bar Staff
Busser
Cafe Manager
Catering Manager
Catering Sales Manager
Chef
Cook
Dishwasher
Food and Beverage Manager
Food Runner
Food Server
Host
Hostess
Kitchen Team Member
Kitchen Manager
Restaurant Manager
Server
Related: Restaurant Job Titles | Hospitality Skills for Resumes
Lists of Job Titles
More information on job titles and a list of job titles for a variety of occupations.
Job Title Samples
Sample job titles and job title lists categorized by industry, type of job, occupation, career field, and position level.