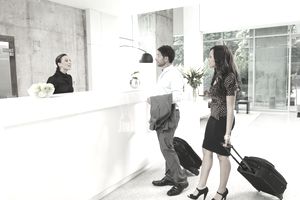 Hotel front desk employees (also known as guest services employees) are responsible for making sure guests have a pleasant experience at a hotel. This typically involves checking in and out guests, taking reservations, and answering any questions the guests may have.
Below is a list of the top five most important skills for a hotel front desk employee, as well as a longer list of other skills employers seek in candidates for guest services jobs.
Hotel front-desk employees (also known as guest services employees) are responsible for making sure guests have a pleasant experience at a hotel. Duties typically involve checking guests in and out, taking reservations, and answering any questions the guests may have.
You don't need a college degree or any relevant experience to be a hotel front-desk employee, although an associate's degree in business or administration helps, and strong interpersonal and communication skills are a must. Pay is not luxurious but can be good, and you can move up into supervisory positions and a career in the hospitality industry. Or, if you prefer, you can use a job at the front desk as a stepping stone to another position.
How to Use Skills Lists
You can use these skills lists throughout your job search process. Firstly, you can use these skill words in your resume. In the description of your work history, you might want to use some of these keywords.
Secondly, you can use these in your cover letter. In the body of your letter, you can mention one or two of these skills, and give a specific example of a time when you demonstrated those skills at work.
Finally, you can use these skill words in your interview. Make sure you have at least one example for a time you demonstrated each of the top skills listed here.
Of course, each job will require different skills and experiences, so make sure you read the job description carefully, and focus on the skills listed by the employer.
Also, review our lists of skills listed by job and type of skill.
Top Hotel Front Desk Skills
The front desk of a hotel requires many different skills, and the details can vary, depending on how the hotel is organized (your job may or may not include carrying guests' bags for example) and what market the hotel servers. Nevertheless, there are some skills that all front-desk employees need. Here are four of them.
Communication
Communication is critical for a hotel front desk employee. They speak with guests in person and over the phone all day, so it is important that they speak clearly and maintain a positive tone.
Friendliness
A front desk employee is typically the first person a guest sees upon entering a hotel. Therefore, front desk workers have to be extremely welcoming. A good guest services employee greets every guest with a smile and a friendly word.
Organization
Front desk employees are always multitasking; they must answer phones, greet guests, answer questions, check out customers, and more. Being organized allows a front desk worker to juggle these multiple tasks.
Composure
Because a front desk employee has to multitask and serve many guests at once, a good front desk employee can keep calm under pressure. Even when the hotel is very busy, the employee should still be able to juggle a variety of tasks while remaining friendly to customers.
Problem Solving
Being a front-desk employee means you will be the first person guests bring their problems to. These problems could be minor, such as a request for restaurant recommendations. They could be major, such as a guest whose reserved room is not wheel-chair accessible as requested. There could even be totally unexpected emergencies, such as a guest in a medical crisis. Your job will be to resolve the problem if possible, or to figure out who to call to get it solved. If you can respond promptly and creatively to these challenges, you can give guests a good experience, and you can earn a good review for your hotel, despite a bad situation.
Computer Literacy 
Working at the front desk requires using computers to keep records, process payments, and other tasks. While you don't need to be an expert in the world of tech, you do need to be computer-literate, and either already comfortable with the software the hotel uses, or at least able to come up to speed quickly.
Teamwork   
Front desk employees often have to work with others. Sometimes they have to work with other employees at the front desk to handle a difficult problem. Other times, they have to communicate with people in different departments within the hotel – including parking, housekeeping, and management – to ensure that guests are satisfied with their stay. Front desk employees should, therefore, be able to get along and work with a variety of people.
Hotel Front Desk Skills
A - E
Answer Switchboard
Assessing Guest Satisfaction
Assign Rooms
Assist Other Team Members
Attention to Detail
Book Lodging Reservations
Check-In Guests
Check-Out Guests
Clean Lobby and Desk Area
Communicate Hotel Services
Communicate Promotions
Computer
Computer Systems
Courteous
Central Reservations Systems (CRS)
Customer Service
Decision Making
Efficient
Energetic
Enroll Guests in Frequent Guest Programs
Enthusiasm
F - L
Flexibility
Greet Guests
Group Reservations
Guest Experiences
Guest Relations
Guest Services
Handle Messages
Interpersonal
Issue Room Keys
M - PO
Maintain Lobby and Front Desk Area
Multi-tasking
Passion for Pleasing People
People
Product Knowledge
Post Guest Charges and Payments
Positive Attitude
PR - Z
Prioritizing
Process Credit Card Charges
Process Payments
Professional Appearance
Promote Frequent Guest Programs
Promote Facility and Services
Promotions
Provide Information on Hotel Services
Register Guests
Reservations
Reservations Management
Resolving Complaints
Respond to Guest Inquiries
Respond to Special Requests
Room Availability and Inventory
Run Reports
Room Upgrades
Scheduling Employees
Settle Guest Accounts
Time Management
Upsell Rooms
Verbal Communication
Written Communication
Read More: Hotel and Resort Management Skills | Concierge Skills
Related Articles: Soft vs. Hard Skills | How to Include Keywords in Your Resume | List of Keywords for Resumes and Cover Letters | Skills and Abilities |Resume Skills List