How Do I Find a Job in Airport Security?
Interested in working for the TSA? Read more to find out how.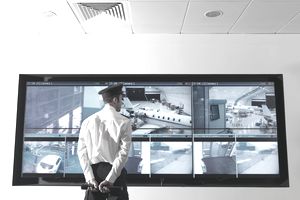 It's a tough job, but someone has to do it. Airport security, also known as airport security screener jobs or transportation security screener jobs in the US, has been wrought with controversy over the years since 9/11. However, these are still essential jobs required to ensure our safety in the skies. Therefore, they're always going to be in demand. Here's a bit of extra information about working in airport security, including how to apply.
Not Just the TSA Anymore
After 9/11, the Transportation Security Administration (TSA) became solely responsible for final hiring decisions made on airport security employment. However, in November 2004, the TSA started accepting applications from private screening companies under its Screening Partnership Program (SSP).
Airports may "opt out" of the TSA placing airport security screeners, to allow qualified, private screening companies to place them. And some airports have done so - such as Kansas City International Airport.
The TSA developed the Program in accordance with the Aviation and Transportation Security Act (ATSA). The requires private screening companies to provide compensation and other benefits to workers whom they hire for airport security jobs, that are no less than those of Federal workers whom the TSA hires for same.
In short, all this means is that private screening firms cannot compensate you for less than what the TSA does their employees.
It is an important job and compensation shouldn't be an issue for employees.
How to Apply
The TSA encourages applicants to apply online for Federal airport security jobs. All TSA jobs are available through USAJobs, the Federal government's official central job bank. As with any other Federal government job, you must apply for specific airport security jobs that the TSA is currently offering.
In other words, you can't broadly apply for any airport security jobs that the TSA has open, nor may you broadly apply for any that might open in the future.
You must be a U.S. Citizen or U.S. National to apply. You must also have:
A high school diploma/general equivalency diploma (GED) or equivalent

At least one year of full-time experience in security, aviation screening or x-ray work
Another requirement includes some form of National Service Experience, such as volunteer work with the Peace Corps, AmeriCorps or with community organizations like a local church or a non-profit organization. So if you haven't volunteered your services to someone yet, now's the time to do so if you're interested in a position in airport security.
Be Prepared to Answer a Lot of Questions
Airport security jobs are homeland security jobs with national security at stake. Consequently, whether you apply online or by phone, be prepared to answer complex and nosey, security clearance questions, and to get fingerprinted and photographed eventually.
The government is a stickler for qualifications and other details. So, before applying, be sure you read all information about airport security jobs at the TSA's site, including the transportation security screener job description that displays when you click on an opening.
You might also consider buying a good book about applying for federal government jobs.
What About Other Security Positions?        
For information about other homeland security jobs, see the article by the same name.
If you want to discover if a private screening company hires for airport security jobs at an airport at which you'd like to seek employment, start by contacting the airport's hiring authority (e.g., the human resources department), visiting the SSP page on the TSA website.