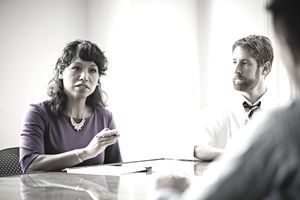 It's important to be careful when answering questions about how the employer you are interviewing with is better than your current or last employer.
I once had a job applicant tell me that the company she worked for was awful. They treated employees terribly, and she hated working there. That company happened to be our biggest customer.  Even if what she said was true, and it wasn't, I wouldn't have hired her.
There wasn't any way she could have had a positive relationship with our client.
In addition, an invitation to differentiate your current employer from your prospective company presents a potential trap.  The interviewer might be testing you to determine if you have a negative attitude or difficulty with authority.  He will also be assessing whether you have done your homework and have realistic expectations for their organization. 
How is Our Company Better Than Your Present Employer?
One key to answering is to make that sure whatever you mention as positive attributes of the employer you're interviewing with are accurate. Don't overhype the new opportunity or company.
Another key is to be careful not to mention any negative information about your current status. Keeping it positive makes the best sense, even if your work experience wasn't.  The safest approach will usually be to frame your current employer in a positive way and note how the prospective employer is even more attractive to you.
Keep it Positive
One way to accomplish this goal will be to mention positive features of the new company which build upon, but also exceed, positive aspects of your current company.  For example, you could say:
 "As a salesperson, I am very concerned about how consumers perceive the quality of the products that I sell.
My current employer has a solid reputation for quality, but your firm is universally recognized as the industry leader in quality and service."
Stick to the Facts
Sticking to the facts is important, and this means avoiding references to subjective considerations like the quality of management and leadership.  For example, you could say:
 "I am excited that your company has introduced three new products during the past year which have gained traction and garnered increased market share.  My current company is in a more stable phase.  It produces well known and respected brands but has not opened up new markets."
Make it Professional Not Personal
Your emphasis should be placed on aspects of the company that would enable you to be productive on a professional level. For example:
"It is my understanding that you invest considerable resources in training employees to utilize the latest technology."
It's best to avoid references to features of corporate culture that are personally beneficial. For example:  "I find the ability to work from home and your generous vacation policy to be very appealing."
You don't want the company to think that the only reason you want the job is how it will personally benefit you.
It's better to focus on how it will benefit you professionally rather than on what you'll get out of it if you're hired.