How Much Does a Human Resources Generalist Make?
Average HR Generalist's Salary and Factors That Affect Salary Growth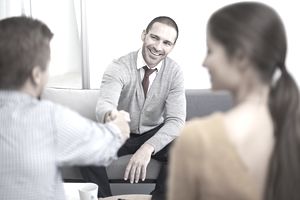 The salary of a Human Resources generalist depends on their job duties and responsibilities, the market for generalists in your region, the size of the organizations that employ generalists, and the generalist's organizational structure and organizational hierarchy.
In 2015, the median annual wage for Human Resources generalists was $58,350 according to the Occupational Outlook Handbook (OOH), (The median annual wage is the wage at which half of the employees working in a particular occupation earn more than that amount and half of the employees earn less than that amount.)
Human Resource Generalist - Job Description
Human resources generalists are responsible for all aspects of human resources work. In some, usually smaller organizations, the HR generalist is the highest ranking HR employee. Generalists may have duties in all areas of HR including payroll, benefits, compensation, training, recruitment, employee relations, labor relations, organization development, change management, and personnel management. (Hence, the title, generalist.)
In organizations that have a Human Resources manager to whom the HR generalist reports, the HR generalist is generally responsible for lower level tasks and functions within the areas of HR. The manager or director takes on higher level responsibilities and receives a higher level salary as a result. They are also responsible for the administration of human resources policies, procedures, and programs. 
HR Generalist Salary Range
According to Payscale.com, an HR generalist earns an average salary of $48,032 per year.
 Employees who work as generalists usually don't have more than 20 years of work experience. For the first, five to ten years in the position, pay increases by a small amount annually but remains stagnant after ten years.
Payscale.com shows a range of pay for HR generalists from $35,171 - $65,542 with potential for bonus and up to $5100 and profit sharing to $4900, depending on the employer.
Some generalists make up to $80,000 but this is not the norm. HR generalists usually seek a promotion to HR manager to increase their salary potential. HR generalists in the bottom 10% earned less than $32,770, and the top 10% earned more than $95,380, according to the OOH.
Generalists earning a salary on the higher end tended to work for large organizations in major cities that had a hierarchy within their generalist jobs. For example, employees with the title of HR generalist I earned salaries that ranged from $44,797 - 71,562; HR Generalist IIs made $54,302 - 88,090; HR generalist IIIs were paid $67,387 - 109,227; HR generalists IIIIs made $75,405 - 123,395.
Note that the data from these three sources reflects a different methodology for collecting and displaying findings. Overall, the salary range for an HR generalist runs from $44,797 to $100,000.
Factors Affecting the Salary of an HR Generalist
The HR generalist's salary, like those of other employees who work in an organization, is increased in the 2-4 percent range annually depending on the employer' budget for raises and the generalist's performance and contribution.
(The generalist who is willing to stand up for herself and ask for a pay raise will have an edge in salary as well for deciding to act with professional courage.)
The salary earned by an HR generalist varies depending on:
Industry
Region of the world
Company size
Private or public sector employment
Market pay ranges based on supply and demand factors
Whether the HR generalist is the sole HR employee or if the generalist reports to a manager or director
The salary earned by an HR generalist also varies by personal factors such as:
Degrees earned
Credentials obtained
Years of experience
Longevity in the organization
Performance 
Certifications
Responsibilities and expectations of the job
The breadth of the HR generalist's responsibilities affects their pay significantly. An HR generalist who manages the complete HR function for an organization will make more money than generalists who are in charge of portions of the HR programs but report to an HR manager or higher.
HR generalist jobs in large cities such as Philadelphia, Chicago, and New York, pay more and usually, the larger the organization, the more HR generalists are paid. In larger organizations, they are also most likely to report to an HR manager, director or vice president.
Regionally, HR generalists make less money in the midwest and south and make more money on the east and west coasts.
For specific information about the city or area in which you want to work, pursue informational interviews with people currently working in HR manager or generalist roles. Also, talk to local recruiters and members of your local Society for Human Resource (SHRM) chapter.
You can also search job boards such as Indeed.com or SimplyHired.com with searches that are specific to your city, industry and desired company size.
For More Information on Becoming an HR Generalist: