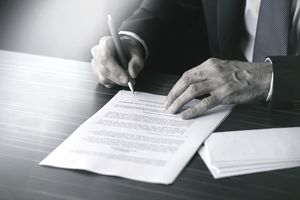 How you end a business letter is important. Your letter closing needs to leave the reader with a positive impression of both you and the letter you have written. In closing your letter, it is important to use an appropriately respectful and professional word or phrase.
Most formal letter closing options are reserved but note that there are degrees of warmth and familiarity among the options.Your relationship with the person you're writing to will shape which closing you choose.
Read below to find out some of the most common closing options available, and get help finding out which ones are appropriate in which correspondence.
Letter Closing Examples
The following are letter closings that are appropriate for business and employment-related letters. Read below for information on when to use each of them.
Sincerely, Regards, Yours truly, and Yours sincerely - These are the simplest and most useful letter closings to use in a formal business setting.
These are appropriate in almost all instances and are excellent ways to close a cover letter or an inquiry.
Best regards, Cordially, and Yours respectfully - These letter closings fill the need for something slightly more personal. They are appropriate once you have some knowledge of the person to whom you are writing. You may have corresponded via email a few times, had a face-to-face or phone interview, or met at a networking event.
Warm regards, Best wishes, and With appreciation - These letter closings are also appropriate once you have some knowledge or connection to the person to whom you are writing. Because they can relate back to the content of the letter, they can give closure to the point of the letter. Only use these if they make sense with the content of your letter.
More Letter Closing Examples
When you're ending your letter, be sure to choose a letter closing that is appropriate to the topic of your letter and to your personal situation and relationship with the person you are writing to. Here are more examples to choose from.
Best,
Cordially yours,
Fond regards,
In appreciation,
In sympathy,
Kind regards,
Kind thanks,
Kind wishes,
Many thanks,
Regards,
Respectfully,
Respectfully yours,
Sincerely,
Sincerely yours,
Thanks,
Thank you,
Thank you for your assistance in this matter,
Thank you for your consideration,
Thank you for your recommendation,
Thank you for your time,
Warm regards,
Warm wishes,
Warmly,
With appreciation,
With deepest sympathy,
With gratitude,
With sincere thanks,
With sympathy,
Your help is greatly appreciated,
Yours cordially,
Yours faithfully,
Yours sincerely,
Yours truly,
Capitalization
Capitalize the first word of your closing. If your closing is more than one word, capitalize the first word and use lower case for the other words.
Letter Closings to Avoid
There are certain closings that you want to avoid in any business letter. Most of these are simply too informal. Some examples of closings to avoid are listed below:
Always,
Cheers,
Love,
Take care,
XOXO,
These are too informal, and some (such as "Love" and "XOXO") implies a level of closeness that is not appropriate for a business letter.
Avoid these kinds of sign-offs, which are more appropriate for messages to friends or loved ones.
Your Signature
Beneath your letter closing, include your signature. If this is a physical letter, first sign your name in pen, and then include your typed signature below. 
If this is an email letter, simply include your typed signature below your sendoff. 
It is also important to include your contact information in your letter. If this is a physical letter, your contact information will be at the top of the letter. However, if this is an email, include that information beneath your typed signature. This will allows the recipient to respond to you easily.
How to Format a Letter Ending
Once you have chosen a word or phrase to use as a sendoff, follow it with a comma, some space, and then include your signature.
If you are sending a hard copy letter, leave four lines of space between the closing and your typed name. Use this space to sign your name in pen.
If you're sending an email, leave one space between the complimentary close and your typed signature. Include your contact information directly below your typed signature.
Hard Copy Letter
(space)
Sincerely,
(space)
Handwritten Signature (for a mailed letter)
(space)
Typed Signature
Email Letter
(space)
Regards,
(space)
Typed Signature
Contact information (for an emailed letter)
Letter Examples and Writing Tips
Sample Letters
Letter samples for job seekers, including cover letters, interview thank you letters, follow-up letters, job acceptance and rejection letters, resignation letters, appreciation letters, and more great employment letter samples.
Sample Email Messages
Samples of professional email messages. Use these samples to format your professional email messages.
Business Letters
How to write business letters, general business letter format and templates, and employment-related business letter examples.