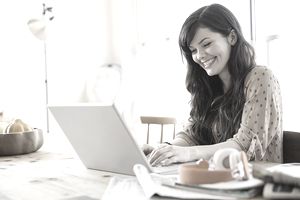 Interested in finding a work from home job? There are legitimate work from home jobs available. However, before you apply, it's important to carefully research the company to make sure the job is legitimate and not a scam designed to take your money or your personal information.
Types of Legitimate Work at Home Jobs
There are companies that hire employees directly to work from their homes. Legitimate work from home jobs include customer service, recruiting, sales, scheduling, technical, writing, marketing, and telemarketing positions.
A home based agent, for example, works from a home office gathering, entering and confirming customer information, answering customer questions, resolving issues, providing customer care, engaging in live chat, responding to email, and handling calls with customers.
Other work at home jobs that are for real include call center jobs, online tutor jobs, transcription jobs, and virtual assistant jobs.
Read this list for more jobs that are ideal for working remotely.
Getting Paid
Some companies pay an hourly rate. In other cases, the jobs are part-time, commission-based, or pay a lump sum for a completed project.
No legitimate job will require you to pay money to work for them. Almost any job listing that asks you for money up front is a scam.
Avoid Work at Home Scams
When searching for a legitimate work from home job, you will have to keep an eye out for scams. Below are some tips for avoiding common work at home job scams.
Know the common scam jobs. There are a number of work at home jobs to avoid. These include assembly jobs, multi-level marketing, claims processing, and stuffing envelopes. Many of these of these positions require you to pay a lot of money, and you see little to no earnings.
Read the listing carefully. Make sure you know if there is a salary or if you're paid on commission. Look into whether or not you need to buy equipment, and if you will be reimbursed.
Research the company. If you aren't sure the company is legitimate, ask for references. If the company won't provide references, do not apply.
Never send money. Employers should not charge you to begin working for them. Avoid any company that asks you to send money for equipment. Also, never give your bank account information or any other personal information that could help someone steal your identity.
Avoid "get rich quick" ads. Almost any ad that guarantees quick wealth is a scam.
Finding Legitimate Work at Home Jobs
Below are some tips for finding legitimate work at home positions.
Ask your boss. Telecommuting is becoming more and more common. If you have a job you already like, talk to your boss about the possibility of working from home. When talking to your boss, focus on the benefits to your company – for example, emphasize that you will be more productive.
Focus on specific companies. To help avoid job scams, focus on legitimate companies that you might want to work for. Read this list of work at home companies for suggestions of companies that support telecommuting.
Search online. There are a number of job search boards and engines that specialize in work from home positions. Start with these sites as you begin your online search. Remember to look out for scams.
Work at Home Job Search Tips
More tips for finding legitimate work at home jobs, finding companies to work for, and avoiding job and employment scams.
Job Scams
More information about job scams including how to check out job listings, how to avoid employment scams, how to report a scam, and where to find lists of scams.
Read More: Work at Home Jobs and Companies | Top 10 Work-at-Home Jobs for Teachers