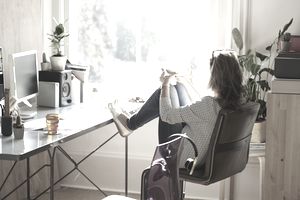 Looking for a work at home job? Here's everything you need to know about working at home, including where to find work at home job listings, the best sites for finding working at home jobs, and how to avoid work from home scams.
Finding Real Work at Home Jobs
Are there real work at home jobs? Yes, there are some, but, they are not nearly as plentiful as you would think considering the amount of interest there is in working from home.
They are also sometimes difficult to find. Here's a list of the top 10 jobs to work remotely and three ways to find a work from home job.
Despite all the online advertising you see, there aren't as many legitimate work at home job as you might think unless you have the skills that are conducive to freelancing or for working full-time at a position where you don't need to be in the office.
In fact, there are almost as many scams than real work from home opportunities. Here's how to research work at home opportunities to make sure they are legitimate and avoid scams. There are companies that hire for work from home jobs and you can find work at home job listings online. 
Getting Started Working at Home
Many people who work from home started out working in an office, but, were able to arrange with their employer to work some or all of time at home. I have an acquaintance who relocated to Washington, DC.
Her employer decided to enable her to work from home, rather than losing a valuable employee.
I have another acquaintance who works part-time from the office and part-time from home in order to accommodate her child's school schedule. My sister-in-law schedules home nursing care visits from home. In those cases, employees, who had already proven themselves to be valuable to their employer, were able to negotiate flexible work schedules.
Companies That Hire Work From Home Employees
There are companies that hire employees directly to work from their homes. Check the sites that list work at home jobs. Some of these positions are those where you cover a territory, for an insurance company or a consumer products firm, for example, and spend some time on the road and some time in your home office. There are also customer service, recruiting, sales, scheduling, technical, writing, and telemarketing jobs available. In many cases, the jobs are part-time, commission-based, or pay a lump sum for a completed project.​
In other cases, you can work as a home-based agent where you are an employee of the company who works from a home office, providing customer service to client companies. Virtual assistants provide administrative, secretarial, and clerical support, as well as creative and/or technical services for clients.
Work at home transcriptionists or closed captioning writers are usually independent contractors who transcribe and edit recorded reports onto their home computer. Online tutors work for internet based companies that offer help, within a variety of subject areas, to students of all ages. If you're looking to make a little extra money, paid surveys are a possibility, but do be careful about avoiding scams.
Full-time jobs that provide health insurance, a pension, vacation, and other benefits while you work full-time from home, especially if you don't have experience, are few and far between. Finding them online is a little like looking for a needle in a haystack.
Be Flexible
Flexibility is one key to successfully working from home. If you are willing to consider freelance or contract employment or willing to combine a couple of part-time positions, you'll have a greater chance of success in finding opportunities that are legitimate. It's also critically important to take the time to search for positions and to thoroughly research those that sound viable.
How to Find "Real" Work at Home Jobs
Despite all the online advertising you see, there aren't that many work-at-home jobs. Those that are available may require that you live in a certain area or spend at least some time in the office.
Others may be part-time or freelance, so, you will need to be continually seeking potential positions.
Keep in mind that the skills needed for home employment are similar to those needed for working in an office. You need both the experience and the skills necessary to do the job. You'll also need a home office with high-speed internet, phone, fax, computer, printer, software, and other basic office equipment.
Work From Home Job Searching
To get started, consider, for now, your job search for your job. Dedicate as many hours per week to your search for employment as you would spend working. If you're looking for full-time work, you should be spending full-time hours seeking employment.
Networking remains the top way to find a job and it does work. Develop contacts - friends, family, college alumni, even the other job seekers - anyone who might help generate information and job leads. You can take a direct approach and ask for job leads or try a less formal approach and ask for information and advice. Contact everyone you know and tell them you want to work from home. You may be surprised by the people they know and the leads you can generate.
Work at Home Job Sites
Check the sites that list work at home jobs and look through all the listings and remember to take advantage of the Resume Posting section, if the site has one. That way companies seeking employers will be able to find your resume.
Use the job search engines using terms like "work at home" "telecommute" and "freelance." Next, search the online job banks using keywords like "work at home" "telecommute" and "telecommuting" Searching Monster, for example, using "telecommuting" as a keyword generates almost 200 listings. "Work at home" generates close to 1000 positions.
This is a time when it makes sense not to simply search the web search engines. I've found that searching for "work at home" most often brings up scams or websites that want to charge you for providing "real" work at home jobs or for "proven successful" home business information. Rather, stick with the sites that focus on employment.
Apply for Work at Home Jobs
Be prepared to apply online. Have a resume and cover letter ready to send. Depending on the type of employment you're looking for you may also need work samples to send to prospective employers. Track where you've applied. Many of the same positions are listed on multiple sites, so you'll want to be sure not to duplicate your efforts.
Work at Home Interviews
If you are applying for a work at home job for a company that has a local office, you may be expected to interview in-person. Here's advice on what to wear for a work at home job interview.
If you are working for a remote company, you may be interviewed via an online interview system, video, Skype, or even via email. Regardless of the type of interview, be prepared to answer these typical work at home interview questions.
Tips for Avoiding Work From Home Scams
There are more work from home job scams than there are real work from job listings, so, job seekers need to be really careful when searching for and evaluating work at home job listings. Presume that the position is a scam unless there is compelling evidence to the contrary. Take the time to research the position, the company including talking to other people who work there. That way, you won't be scammed and you will be using your best efforts and best judgment to find a legitimate work from home job.
If it sounds too good to be true, it is.
Evaluate every listing you look at very carefully. Find out if there's a salary or if you're paid on commission. Ask how often are you paid. Ask what equipment (hardware/software) you need to provide. Find out what support the company provides.
If you get an unsolicited email telling you that a company that you have never heard of wants to hire you for a job where you don't need experience or skills and can make a lot of money, trash it. There are lots of scams out there, some of which are personalized and sound quite legitimate.
Be careful of listings that guarantee you wealth or financial success or that will help you get rich fast from home. They will probably do none of the above.
Do not send money! Legitimate employers don't charge you to get started or for anything else.
Also, don't send money for work at home directories or start-up kits. Free information and job listings are available online.
Ask for references - request a list of other employees or contractors to see how this has worked for them.
Work at Home Suggestions
Be flexible - consider freelance work or projects as well as full-time employment. At least it will get you started.
Employed now? Ask your employer about the possibility of working some hours from home.
Be patient and be prepared to spend a lot of time weeding through scams and junk listings to get to legitimate openings.