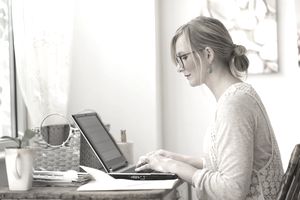 You've finished your novel or crafted a professional book proposal, and you've decided you need a literary agent. Now... 
How Do You Get A Literary Agent?
Now how do you get an agent to take notice and agree to represent you? The good news is: agents need writers--it's how they make their living! The bad news is: they get hundreds--maybe thousands--of e-mails from writers just like you, looking for representation.
Here's how to stand out from the crowd.
Tap Those Who Know Literary Agents. Which Means... 
Ask anyone you know in book publishing. And if you don't know anyone in book publishing, get to know somebody in book publishing.
Do you know anyone in publishing who might know an agent? Do your friends or relatives? How about your friends-of-friends or relatives-of-relatives or alumni association? Ask for a referral and have your query letter (see #4) handy for forwarding.
Many agents speak at writer's programs, book festivals and conferences, like Romance Writers of America's annual conference. Look for writer's events in your community (inquire at your local colleges, libraries, civic centers, etc.). You can build your skills while making connections. Make sure to listen when an agent says how he or she likes to be approached (e-mail? snail mail?) — the question will inevitably come up and, if it doesn't, raise your hand and ask!
Then follow their instructions to the letter. If you can, introduce yourself at the end of their talk or during a break.

If you have a referral or have met an agent, start there and skip to Step #4 (for now). If no luck there.... 
Gather Literary Agent Names From Publications or Websites:
Go to the Publishersmarketplace.com site and type in "agents." You'll get a list of those with pages on the site with lots of information about their clients, deals, etc.
Literary Market Place -- a comprehensive industry reference book, updated every year, usually found in or accessed from your local public library.
Writers Market -- also updated every year, this is targeted toward writers and widely available from booksellers.
Jeff Herman's Guide to Book Publishers, Editors, and Literary Agents -- another annual targeted at writers, published by the owner of the Jeff Herman Agency.
This tried-and-true method (it's an old tip that's still around because it works). Find the books that are similar to yours in genre and audience, and look at the acknowledgments--authors often thank their agents.
Today, most literary agencies have websites with profiles of their agents — 
Narrow your list to those who are likely to respond to your work:
Many agents stick to a few areas of specialization--whether it's women's fiction and memoir, cookbooks and self-help or door-stop-sized biographies and sports. This enables them to know all facets of the particular marketplace, including the ‹ who are acquiring in those areas.
To learn who might be more inclined to want to represent you, get your search engines roaring:
Many agency websites list their roster of clients/books, so you can see where your book might fit in. Some include bios of the agents and their particular interests if they're open to inquiries and how they'd like to be approached.
Dig deeper for the agents you've found on the Publishersmarketplace.com site--those pages have information about agents' clients, some of the deals they've made, etc.
Mediabistro.com has a "Pitching an Agent" section that gives detailed and specific about what selected agencies are looking for and to whom to pitch within the company, and exactly how they like to be approached. You can see if a particular agent is covered and get a small snippet of the interview without being a paid AvantGuild member.
If Possible, Make Yourself Known to Your Target Literary Agents
Many literary agents are on social media. Your being active (and using best practices) on social media helps grease the wheels with agents with whom you don't have a personal connection. 
Agents are more likely to respond if you've met them or if you've been referred, or if you've been kindly retweeting their authors and they recognize your name, so it's great if you can remind them of a connection.
Introduce Yourself to Your Target Agents With A Succinct, Professional Query Letter.
Again, agents are more likely to respond if you've met them or if you've been referred, so it's great if you can remind them of a connection or have a name to drop at the top of your query letter. If you've been kindly retweeting their authors, hopefully, you'll have some sort of direct, social connection to which you can refer ("I was the rabid fan of X who wrote the ode you retweeted you thought was clever..." )
Note that "professional" is just as important if you were referred — you owe it to the person who sent you to make him, or her look good, especially if you ever want to use the contact again.
Your letter should include these elements: Make sure to proofread your query letter before you send it out!
Your connection to the agent in once sentence: You met them/heard them speak at the [name] seminar. Or you were referred by [name of person]. Or you know they represent [your kind] of book.
What kind of book is it? How-to? Self-help? Business? Novel? What genre of novel?
A short (three- or four-sentence) summary of the book--don't relate the whole plot. The more enticing you can make those few sentences, the better. What would a book jacket say?
Some brief background about why you wrote the book, and any positive feedback you've already gotten on your proposal or novel from established sources (your Mom doesn't count!).
Your credentials. What qualifies you to write that non-fiction book? Where has your work been published before? What's your platform (very important)?
Say Thanks for Whatever Comes Your Way Through the Effort.
"Thanks so much for the referral." "Thanks for taking the time to review my proposal." "Thanks for your generous feedback." Couldn't hurt. Might help down the road. Plus... it's the polite thing to do!
Repeat With Literary Agents As Necessary.
If you get a response and you click with a particular agent--congratulations!

The next best thing is to have gotten specific feedback: take it seriously for the next draft of your manuscript or proposal. No takers? Don't lose heart. Keep writing and building your credentials and platform. The better your work is, the more you can show you know your market, and you know who your readers are, the better you'll look to an agent. So keep writing, keep researching, and keep reaching out.