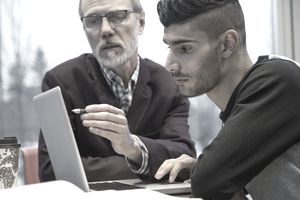 As a parent, you can play a useful role in helping your child search for jobs. However, be sure your good intentions don't go too far and have a negative effect.
For example, the mother of a recent graduate attended a college alumni career networking event with her daughter. She came to "help" her daughter—who looked appropriately mortified—find a job.
In another example, a young man who recently had earned a Ph.D.
accepted a postdoctoral position in a city far from his hometown. He arrived to tour campus and search for housing with both parents in tow to approve of the job offer and the community.
Perhaps some parental initiative is a result of the number of recent college grads still tied to their parents' purse strings. A 2015 New York Post article reported that about half of students expect to be supported financially by their parents for up to two years after graduation, according to a survey conducted by Upromise, the savings division of student lender Sallie Mae. However, stories like those above still surprise because one of the first rules of job searching is to do it on your own. Even teenagers interviewing for their first jobs will be more impressive to interviewers when they're able to display independence.
How to Help Your Child of Any Age Find a Job
Network. Talk to your friends, your colleagues, and your relatives about your child's job search. It works. Local business owners might be more apt to hire the child of a friend, regular customer, or client than someone they've never met.
Share resources. Talk to your son or daughter about what to wear to an interview, how to interview, and the polite gestures (like sending thank-you notes) that will go a long way toward getting a job.
Get paperwork ready in advance. Help your child compile the information needed to write a resume or complete a job application. Proofread the finished version and assist with the process to get working papers (it can be cumbersome) if needed. However, don't write their resume for them, warned Stiller Rikleen, executive-in-residence at Boston College's Center for Work and Family, in a 2013 article on TheFiscalTimes.com. An employer will spot that a mile away. Rather, be your child's adviser; let them bounce ideas off you, but don't do the work for them.
Assist with transportation. If your child is too young to drive, help with coordinating transportation to interviews and to and from work.
Foster Independence
Let them do it on their own. It's hard to let go, but teenagers who make their own first impressions have a bigger impact with interviewers. In TheFiscalTimes.com, Patrick O'Connor, past president of the National Association for College Admissions Counseling advises against parental help with salary negotiation. Sure, every parent thinks their kid deserves a princely wage; plus you want your child to get a jump start on repaying student loans. Keep in mind, though, that entry-level salaries often are set, leaving little room for negotiation.
Let them find their own path. Don't pressure your child to pursue a career that he or she doesn't want. People work the hardest when they discover something they really want to do.
Push if necessary. Encourage your child to start job searching and stress the importance of it, but don't overdo the financial support. They may be more motivated if they have to pay their own bills.