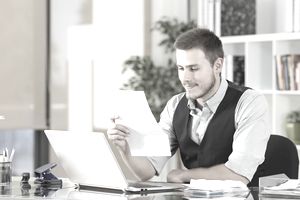 When you write a cover letter or send an email message that includes a cover letter, you will always need to include your contact information. You'll use the same basic template every time to share your contact details — this isn't the time to get creative.
You don't want to make the recipient have to do any work at all to figure out how to get in touch with you. However, the way you include your contact information will vary based on the method you use to send your cover letter.
Provide Information on You Can be Contacted
In your cover letter, no matter what contact information you include — street address, phone number, email — indicate to the recipient the most expeditious way to contact you. If you're sending a paper cover letter, for example, you can write, "You can reach me during business hours at the phone number above."
Or in an email message, you could say, "I look forward to hearing from you — my email address and phone number are in my signature below." A simple sentence in the conclusion of your cover letter will make it clear to employees both where to find your contact information, and the best way to get in touch. 
Contact Section - Printed Cover Letter
When you are writing a cover letter to mail or to upload to a job board or company website, the first section of your cover letter should include information on how the employer can contact you. If you have contact information for the employer, include that.
Otherwise, just list your information.
For a cover letter printed on paper, put your contact information at the top left. Use single-spacing and a consistent font, formatting it as a block of information that belongs together. On paper, you will always include your full mailing address (after all, you're including the recipient's full address as well, since you're mailing the letter).
Additional contact information should include your phone number and email address.
Leave a space, add the date, and then type the recipient's name and address, single-spaced. Include both the name of the person you are sending the letter to and that person's title, as well as the organization name.
Experts strongly recommend doing your research so that you know the name of the person who's receiving the letter. You can use the company website or LinkedIn to try to determine the hiring manager's name. Or, call up the company's main line, and see if the receptionist can help. 
If you cannot determine a contact's name, simply leave off the "name" and "title" in the employer contact information section. Instead, you can put a department. (For instance, "Editorial Department" or "Human Resources.") Here's how the beginning of your letter should look:
Your Contact Information
Your Name
Your Address
Your City, State, Zip Code
Your Phone Number
Your Email Address
Date
Employer Contact Information
Name
Title
Company
Address
City, State, Zip Code
Contact Section - Email Message
Email communication is a different story. When you send an email cover letter, you should not include the contact information of the employer.
And instead of listing your own contact information at the top of the message, include it in your signature, after your name.
You can include your full contact information, such as street address, or just your name, email address, and phone number. You might also include relevant links to your social footprint, such as your LinkedIn profile or professional website, if that will provide additional helpful information or add to your stature in the profession that you work.
Here are examples of email signatures:
Email Signature Example 
FirstName LastName
Email Address
Phone
Email Signature with Full Address Example
FirstName LastName
Street
City, State, Zip
Email AddresPhone
Email Signature with LinkedIn Example
FirstName LastName
Email Address
Phone
LinkedIn Profile