How to Prepare for an Employment Background Check
Tips for getting ready for a background check for a new job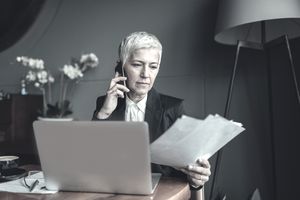 If you're in the throes of a job search then you need to be ready for a potential employer to thoroughly check your background. It's always a good idea to be aware of any red flags that might be on your record, so you can plan how to handle them. The best way to prepare for an employment background check is to know in advance all the information an employer might unearth about you. 
Especially if you've been in the job market for a while, it's easy to forget a previous employment glitz (or personal misstep) that will cast you in a bad light.
The most important thing is that you don't wait until you're in the middle of a job search to prepare for a background check. 
How to Prepare for an Employment Background Check
When interviewing for a job, you may need to answer questions about your credit record, your driving record, and other items and situations an employer may consider relevant. Even if these things have nothing to do the job opening, they speak to one's character.
Consider all of the following when preparing for your background check:
Credit Report. Get a copy of your credit report. You can order a free copy of your credit report from each of the three major credit bureaus (e.g., Equifax, Experian, and TransUnion) for every year you think is relevant. If there is erroneous information (which can happen), dispute it with the creditor to clear your name.
Criminal Records. Some states don't allow questions about arrests or convictions beyond a certain point in ones past.
Other states only allow consideration of ones criminal history for certain positions (such as jobs in the financial sector or working with children). Here's how a criminal record impacts your job search.
Driving Record. Check your motor vehicle record by requesting a copy of your record from your state Department of Motor Vehicles.
You may also be able to review your driving record online at the DMV website. If you have a history of traffic violations and you're interviewing for a job where a license is required, be prepared to answer questions about your driving record.
Employer References. There are no federal laws restricting what information an employer can disclose about former employees. Ask your previous employers for copies of your employment files and inquire what your references are going to say about you. Here's information on what employers can legally say about you.
Know Your Rights. When employers conduct a check of your background (including credit, criminal, and past employment) if they use a third party, the background check is covered by The Fair Credit Reporting Act (FCRA). The FCRA defines a background check as a consumer report. Before an employer can get a consumer report for employment purposes, they must notify you in writing and get your written consent.
Employment Background Checks
Employment background check and employment verification information, including what information employers can, and can not, find out about job applicants and employees.
Employment Law
Here's information on what you need to know about employment law when you're job searching or when you lose your job, including wages, background checks, required employment forms, unemployment, and other related information.
Suggested Reading: What is an Employment Credit Check?