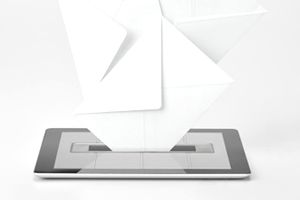 What should you include in your signature when you're writing a cover letter to apply for a job? It varies, depending on how you are applying for the position. The format and information included in your signature is different for mailed, uploaded, and emailed cover letter documents. 
How to Sign a Cover Letter That's Uploaded or Mailed 
If you're uploading your cover letter to a job site, your signature will simply include a closing and your full name.
Place a comma after your close (e.g. Best, or Sincerely yours,) and then put your name on the line below. 
When you're sending a written letter, include a closing, your handwritten signature, and your typed full name. Leave several spaces between the close and your typed name. That way, you'll have room for your signature when you print out the letter. Sign using either blue or black ink. 
For uploaded or mailed cover letters, you do not need to include as much information as you would in an email message. That's because the heading of your cover letter includes your contact information.
A paper cover letter is a formal business style letter of application which includes a heading, salutation, the body of the letter, closing, and your signature. Review these guidelines for what to include in your letter.
How to Sign an Email Cover Letter
If you are sending your cover letter or inquiry letter by email, end with a polite sign-off followed by your full name.
 You do not need to sign a cover letter that is being sent electronically. Write out your full name in the same font as the rest of the letter (no need for italics or a handwriting font). 
The formatting here is very similar to an uploaded cover letter. However, emails do not have a header with your phone number or other contact information.
 It's a good idea to include these details in your closing paragraph or after your typed signature. This makes it easy for the employer or networking contact to get in touch with you.
You can also include links to online portfolios (if appropriate) or a link to your professional social media account (LinkedIn, Twitter). You don't want to make this section too cluttered, however, so restrict yourself to the most relevant information. 
Here's how to set up an email signature, along with more advice on what to include in it (and what to leave off). 
Cover Letter Document Signature Examples
Here's how your signature should look: 
Closing, (see sample closings)
Handwritten Signature (for mailed letters only)
FirstName LastName
For example (signed letter):
Best Regards,
Janet Dolan (Your Signature)
Janet Dolan
For example (uploaded letter):
Best Regards,
Janet Dolan
Email Cover Letter Signature Examples
When you are sending email cover letters, it's important to include contact information so the hiring manager can easily view how to contact you. At the least, you should include your name, email address, and phone number. Other information, like your street address, online portfolio, or social media accounts, is considered optional.
Sample Email Signature
Your Name
Email
Phone
Sample Email Signature With Full Address
Your Name
Street Street
City, State, Zip
Email
Phone

Sample Email Signature With LinkedIn
Your Name
Email
Phone
LinkedIn Profile (Optional)
Sample Email Signature With Twitter
Your Name
Email
Phone
LinkedIn Profile (Optional)
Twitter Account (Optional)
Quick Tip:  Don't use your work email address for job searching. Use your personal email account or set up a unique account to use just for your job hunt. There are many free online email services, like Gmail and Yahoo mail, you can use to set up a new email account for your job search. Even though you are using your personal account, your email address should still be professional. Your best bet is some variation on first initial, last name (e.g., jdoe@gmail.com) or first name, last name (janedoe@gmail.com).
Here's how to set up an email account just for your job search.
How to Write a Cover Letter
Get information on how to write a cover letter, including what to include in your cover letter, cover letter format, targeted cover letters, and cover letter samples and examples.