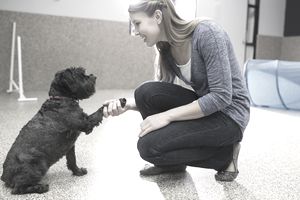 Dog training services are in high demand as pet owners continue to demonstrate a willingness to invest in the well-being of their animals. A dog training business can be a profitable option with a low start-up cost for those looking to become a part of the animal service industry.
Gain Experience
Successful dog trainers usually have extensive experience working with dogs in a variety of capacities. This experience may include prior work as boarding kennel supervisors, groomers, doggie day care operators, pet sitters, dog walkers, dog show handlers, or other related employment.
A strong knowledge of canine behavior is critical to success in this line of work, as dog trainers must be able to modify inappropriate behaviors and encourage the development of desired responses.
While formal training is not strictly necessary, completing an apprenticeship with an established dog trainer is one of the best ways to learn the business and gain practical hands-on experience. There are also quite a few formal training programs offered through professional schools. Aspiring trainers can also pursue certification through the Certification Council for Professional Dog Trainers (CCPDT) or the Association of Pet Dog Trainers (APDT) certification programs.
Form Your Business
Most dog trainers are self-employed and operate their business as a sole proprietorship, though other options include operating as a partnership, limited liability company (LLC), or corporation. Each type of business has advantages and disadvantages, so an attorney or tax advisor should be consulted.
It may be necessary to take out a business license, additional permits, or a basic liability insurance policy as a part of starting a dog training business. Trainers must check with their local government to determine what measures will be necessary.
Many trainers do not rent a physical location from which to operate their business; rather, they travel to client homes or to boarding facilities to provide training exercises.
This helps cut down on the operating costs for the business. Additionally, there is very minimal investment required for acquiring equipment (perhaps a few extra leashes, clickers, treats, or other training aids). Overall, there is a very low overhead cost for this type of business.
Marketing & Networking
Marketing is critical to a dog trainer's success. Word of mouth will eventually provide many referral clients, but initially a trainer will need to do some serious legwork to attract clients.
A trainer should consider coming up with a catchy name or logo that potential customers will be able to remember easily. The business logo and contact information should be displayed on a trainer's vehicle, either through permanent application or using custom magnets. Additional advertising options could include a web site (with newsletters and coupons), ads in local print publications, and business cards or brochures that can be distributed at businesses.
It is always a smart move to network with dog walkers, pet sitters, pet boutiques, and veterinary clinics to get information out to potential dog-owning clients. In return, a trainer can offer to give reciprocal referrals when new clients ask for advice on other reputable pet service providers.
It may also be possible to contract with boarding kennels or doggie day care businesses to provide regular training services; this strategy will result in trainers saving a great deal on travel expenses by being able to service a large number of dogs in one concentrated area.
Pricing Services
It is very important to research current dog training rates in the local area before deciding what your fees will be. Prices should fall into a comparable range with existing businesses, if not slightly lower, so that the new business will be competitive and encourage new clients to try out the new trainer's services. Offering a special discounted rate or a "first lesson free" deal to first time clients can help a new service provider to grow their client list.
Trainers usually offer an hourly or half-hourly rate for private training lessons.
Group classes, with multiple pairs of owners and pets, are usually priced slightly lower than private options. Again, be sure the local market supports the pricing structure, or it will be hard to compete.
Business Outlook
According to the American Pet Product Association, pet spending in the United States reached a new record level of $53 billion dollars in 2012. The category of "pet services" (which includes dog training, grooming, and boarding) commanded $4.4 billion dollars of that revenue in 2012, and pet services are projected to show additional gains over the next several years. As a part of the strengthening pet services industry, dog training businesses should have great potential to be profitable ventures.