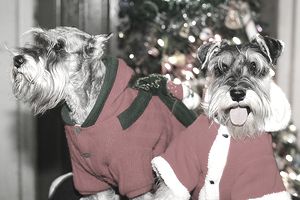 According to the American Pet Product Manufacturers Association, pet product sales are responsible for pulling in more than 50 billion dollars in revenue each year. By following a few steps, you can become a part of this booming industry by starting your own pet apparel design business.
Gain Experience
The aspiring pet apparel designer should be familiar with sketching designs, measuring and cutting patterns, selecting appropriate types and quantities of fabrics, using a sewing machine, and hand stitching or other finishing work.
If you do not have substantial experience with sewing, you should either team up with an experienced seamstress or take classes to learn the fundamentals.
Prior experience in an animal related field is a plus when starting a pet apparel line. Retail or marketing experience, especially in a position related to pet product sales, will familiarize the pet designer with avenues for selling their product, such as pet boutiques and pet supply stores.
Business Considerations
As with any new business, you must consider the advantages and disadvantages of establishing your business as a sole proprietorship, limited liability company, or another type of entity. It is best to consult with your attorney or accountant to determine what type of business is appropriate for your specific situation.
Product Design
Items of pet clothing may include coats, sweaters, rain jackets, hoodies, wedding apparel, dresses, denim items, tee shirts, pajamas, and Halloween costumes.
Designers frequently detail each piece by hand and use high-quality fabrics to ensure a superior product.
Some designers offer high fashion "couture" lines for pets or accept custom orders for specialty items that the pet owner requests. Another design possibility would involve creating high-quality pet carrier "purses" that owners can use to transport their small dogs.
Advertising
It is important to come up with a unique name and logo for your pet apparel business. It should be something catchy that people will remember. The name and logo of the business should be featured prominently on all advertising, product tags, clothing labels, and websites. It also never hurts to design human apparel with your branding on it to gain additional advertising exposure.
It is important to emphasize the unique, high-quality nature of the pet clothing products you design. Consumers are willing to pay more for top quality items for their pets (as evidenced by the booming gourmet pet food and pet toy industries) provided they see value for their pet's health and well-being.
When taking photos of your pet apparel product line, be sure to take photos of both live models and on dog mannequins. Also be sure to feature items for a variety of large and small dogs, unless, for instance, you are choosing to limit your business to only serve one size of dog such as toy breeds.
Marketing
Pet apparel can be sold through a designer's custom website or a brick and mortar retail location. If a designer does not wish to have their own shop, it is possible to find a spot for items in locations such as pet boutiques, gift shops, and high-end women's clothing boutiques.
Other options for advertising your pet apparel line include magazine or newspaper ads, phone directory ads, or email newsletters. Events like dog shows and pet industry expos are also excellent places to set up a booth to show your product line to consumers and industry professionals.
Pricing
Pricing decisions should be made by taking into consideration the cost of materials and labor, as well as evaluating the prices set by your competition. It is smart to shop around your area as well as online to see what other designers are charging for their items of similar construction and quality. Your prices should be reasonably set based on what the market is currently supporting.
Business Outlook
The American Pet Products Manufacturers' Association (APPMA) estimates that there are approximately 78.2 million dogs and 86.4 million cats kept as pets, and that number is expected to increase steadily each year.
Additionally, owner spending on pets has also shown steady gains throughout the past decade.
With the increasing numbers of animals kept as pets and the growing popularity of pet clothing and accessories, the pet apparel industry should continue to show steadily increasing sales. As it is a relatively low-cost start-up project for an animal lover with sewing experience, a pet apparel business could be an excellent home-based or part-time business opportunity for a motivated individual with an eye for design.