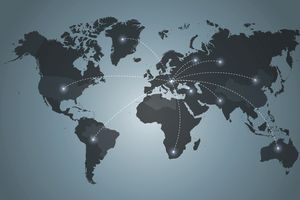 As companies grow larger and the world becomes more globalized, the business world expands across borders to help discover, control, and expand new markets internationally. As a result, these organizations need more and more workers to remain competitive in the ever-growing business world.
Companies are hiring employees interested in working alongside others on the global stage, from entry-level positions to management roles in fields such as communications, finance, technology, and government.
Are you interested in working overseas? Review these typical qualifications for getting hired for international employment, as well as lists of international business and international affairs job titles.
International Business Job and Education Requirements
International business is still a newly emerging field, making it very accessible for new graduates entering the workforce or for employees within a company looking to make a change. For most international business jobs, companies require a Bachelor's degree in a relevant field. Many candidates also have a Master of Business Administration (MBA) or another professional degree such as a Master in International Management (MIIM) to illustrate their passion for business, economics, and management. 
In addition to education, viable candidates are also successful communicators. These international roles require employees to act as an ambassador or representative for their company and to engage in contracts and deal making with other companies or clients abroad.
Companies expect professionals to not only know their products and mission, but also to keep in mind the cultural nuances that may be present. Without the proper respect and consideration for differences in business practices, clients, businesses, and entire markets could be lost. Learning new languages, keeping up with new practices and technologies, and furthering your education are great ways to stay abreast and maintain your competitive edge with international business matters.
Here is a list of job titles for international business and international affairs/development positions.
International Business Job Titles
A - F
Account Executive
Analyst, International Treasury
Analyst, Logistics
Analyst - International Benefits
Assistant Manager, International Marketing Services
Bilingual Customer Service Representative
Bilingual Sales Representative
Business Development Associate
Business Engagement Director
Cocoa Trader Trainee
Controller
Director of International Growth
European Markets Team Lead
Export Specialist
Financial Analyst - Global Implementation Team
Foreign Banking Compliance Officer
Foreign Currency Investment Advisor
Foreign Currency Sales Representative
Foreign Policy Advisor
Foreign Trade Zone Administrator
G - I
Global Account Manager
Global Business Administrator
Global Business Analysis Director
Global Commodity Manager
Global Internal Communication Specialist
Global Product Manager
Global Supply Manager
Import/Export Specialist
Incident Analyst
International Assignment Specialist
International Banking Coordinator
International Business Analyst
International Business Development Director
International Business Meeting Planner
International Business Operations Associate
International Management Consultant
I - K
International Business Specialist
International Claims Manager 
International Division Project Coordinator
International Logistics Coordinator
International Manager, Marketing and Communications
International Market Coordinator
International Operations Accelerated Development Program
International Pricing, Process and Administration Analyst
International Retail Operations Consulting Manager
International Retirement Leader
International Sales Director
International Technical Coordinator
International Trade Specialist
International Travel Counselor
International Traveling Recruiter
Junior Business Development Manager
L - Z
Manager, Global Sales and Marketing Operations
Manager International Business Development
Manager of Contracts
Marketing Manager Asia
Marketing Director
Multinational Manager
Mid-Level International Associate (Attorney)
Middle East Business Development Manager
Principal International Products Manager
Purchasing and Planning Analyst
Purchasing Coordinator - International
Rotational International Integration Director
Sales Manager, International Content Sales
SEO/SEM Analyst - International
Technical Associate Country Manager
Technical Program Manager - International Expansion Team
Trade Assistant - International
Trade and Customs Manager
Trade Compliance Analyst
Trade Compliance Leader
Translator
Vice President of Global Data and Platform
International Affairs / Development Job Titles
A - D
Asia Regional Representative
Associate - Event Production Services
Associate Director, Regulatory Affairs
Chief of Party 
Child Protection Specialist
Communications Officer
Counterintelligence Officer
Country Director
Deputy Director for Countering Violent Extremism
Development Assistant
Development Associate
Direct Marketing Assistant
Director of Fundraising and Communications
Director of Policy
E - P
Economic Development Specialist
Economic Security Delegate
Education Specialist
Emergency Health Program Coordinator
Emergency Response Coordinator
Events Manager
Family Planning Adviser
Fellow, Energy
Finance Director
Food Security Analyst
Foreign Affairs Specialist
Foreign Service Officer
Gender and Participatory Methods Specialist
General Counsel
Global Relations Officer
Grants and Compliance Manager
Head of Mission
Human Dimension Officer
Humanitarian Program Manager
Intelligence Analyst
International Affairs Cyber Analyst
Interpreter
Lead Proposal Writer
Legal System Monitor
Membership Engagement Coordinator
Microfinance Program Coordinator
Operations Analyst
Partnership Analyst
Policy Analyst
Political Affairs Officer
Program Assistant
Project Manager
Protection Coordinator
Public Affairs Officer
Publications Editor
R - Z
Red Cross Country Representative
Research Associate, Africa
Research Associate, Latin America
Research Associate, Middle East
Researcher, Conflict Mapping
Response Team Leader
Senior Crisis Adviser
Social Media Coordinator
Sustainable Agriculture and Gender Adviser
Technical Adviser, Family Planning and Reproductive Health
Translator
Urban Displacement Policy Adviser
Woman's Protection and Empowerment Manager
Suggested Reading: Best International Job Search Engine Sites | Tips for Arranging an International Job Interview
More Lists of Job Titles
More information on job titles and lists of job titles for a variety of occupations.
Job Title Samples
Sample job titles and job title lists categorized by industry, type of job, occupation, career field, and position level.