Internship Opportunities at Seaworld
Great Chance to Learn and Have Fun at the Same Time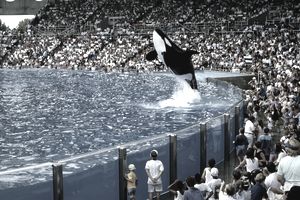 SeaWorld Parks & Entertainment operates a chain of adventure parks across the country including Busch Gardens, Adventure Island, Discovery Cove, and the three SeaWorld parks in Orlando, San Antonio, & San Diego. SeaWorld is the world's most popular marine-life park. Seaworld Orlando was the home to the first Killer Whale born and raised in captivity. In addition to Killer Whales other sea mammals at the parks include Beluga Whales, Bottlenose Dolphins, Sea Lions, Otters, Walruses, and False Killer Whales as well as Penguins and Polar Bears plus sharks, rays, sea turtles and an array of other marine life.
Sea World also features a variety of thrill rides plus Shark Encounter, where guests actually travel inside an acrylic tunnel which passes through the shark tanks.
As an amusement park as well as a learning environment, Seaworld strives to achieve the following goals:
"To instill in students and guests of all ages an appreciation for science and a respect for all living creatures and habitats.

To conserve our valuable natural resources by increasing awareness of the interrelationships of humans and the environment.

To increase students' and guests' basic competencies in science, math, and other disciplines.

To be an educational resource to the world."
SeaWorld offers a variety of Marine Animal Internships at its various locations around the country.
Internship Example: Education Camp
Responsibilities
Prepare materials for daily camp programming
Assist with teaching classes and implementing of games and activities
Assist camp management with daily operations
Qualifications
Current undergraduate student in good academic standing at an accredited college or university
Completed at least sophomore year of college prior to hire date
Currently have a 3.0 or higher cumulative GPA
CPR certified by hire date
Excellent communication skills
Full availability with no restrictions during camp periods
Ability to stand for long periods of time
Able to lift, push and pull 25 pounds
Location(s)
Orlando, San Diego, and San Antonio
Benefits
Free admission to SeaWorld Parks & Entertainment Parks
Family Passes
Complimentary Tickets
Team Member Discounts
To Apply
To begin the process of applying for a Seaworld internships, please visit their website. Veterinary externships are also available.