Why Do You Want This Part-Time Job?
Learn How to Answer this Job Interview Question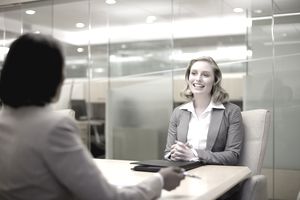 When you are applying for a part-time position a typical job interview question is "Why do you want this job?" You should be prepared with an answer that shows how you are a good fit with the company and with the schedule. Here are sample interview answers which you can edit to fit your personal experiences and background.
Sample Answers for "Why Do You Want This Job?"
The best answer shows that you will be an asset to the business and that the hours and shifts fit well into your personal situation.
If you have limited availability due to school, family, or transportation, you may want to include that in your answer. Sometimes the employer is looking for someone who only wants a part-time position and not someone who would leave them as soon as a full-time position opens elsewhere.
This is exactly the kind of experience I'm looking for, and the part-time hours will work well with my schedule.
I'm looking for a part-position, like this one, so I can earn some money to cover my expenses while I'm attending school.
I'm looking for a job with flexible hours, and with my experience I have a lot to bring to your company.
I enjoy working with the public and I like interacting with customers.
I enjoyed working similar hours at a previous job and I look forward to serving your customers.
Part-Time Job vs. Full-Time Job
You may have applied for a part-time job when you would prefer a full-time job.
In your answer, you should focus on how you think you can perform well in the position and be of value to the company. You can also emphasize that your schedule is flexible, hinting that you are available for more hours. This is not unwelcome as some businesses typically hire people part-time and increase their hours once they have proven to perform well.
Do a little research with current employees to see if that is the case with this employer. That can help you craft your answer.
I have been interested in working for your company and I have the skills that will fit well with this position.
I have experience in a similar position previously and enjoyed the work. My schedule is flexible and this position should match my talents and availability.
I have been keeping my eye out for openings here. I would like to be part of your team and I'm available to work on a flexible schedule.