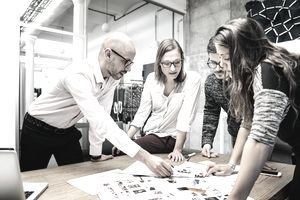 A typical job interview question that employers will ask to discover how well you would work with their other personnel is, "Give us some examples of your teamwork." Employers want to hire people who are team players, so respond in a way that will show the hiring manager that you're able to work well with others.
Best Strategies for Answering This Interview Question
Few jobs are performed in isolation.
This means that any role — from an entry-level assistant to a retail worker to management level employees - need to be able to generate ideas together, execute projects, communicate issues and next steps, overcome problems, and generally collaborate productively with others.
Prepare for this interview question, and other questions about teamwork, by reflecting on times you have worked as part of a team in a work situation. The best responses will give specific examples, ideally from relatively recent jobs. If you are an entry level employee, you can use examples from school projects, volunteer work, or extracurricular activities.
In your answer, give a bit of context: You want to let the interviewer know a bit about the team and what the team's goals were. You can mention the number of people on the team, your specific role, and so on. While you do not need to go into a great deal of detail, providing a bit of background information is helpful.
Then, share any major team accomplishments and – especially – challenges faced and lessons learned. Talking about difficulties you helped your team to overcome is a particularly smart strategy, since it demonstrates effective problem-solving within a collaborative work setting. You can also discuss specific ways you were involved in the team.
Examples of Teamwork
"In my last position, I was part of a software implementation team. We all worked together to plan and manage the implementation schedule, to provide customer training, and to ensure a smooth transition for our customers. Our team always completed our projects ahead of schedule with very positive reviews from our clients."
"I was part of a team responsible for evaluating and selecting a new vendor for our office equipment and supplies. The inter-departmental team reviewed options, compared pricing and service, chose a vendor, and implemented the transition to the new vendor."
"At my current position, I'm part of the team that coordinates the company's lunch-and-learn sessions. Each week, we meet to brainstorm who would be exciting guest speakers. We all work together to ensure a diverse mix of speakers, aiming to appeal to a wide swath of people in the company. Because everyone on the team comes from different areas within the company, we've all learned so much about big ideas, from marketing to tech."
"As part of a software development team with tight project schedules, there were always fires that needed to put out. Perhaps the greatest challenge we faced together as team was when our project lead was suddenly hospitalized, ten days before our final roll-out.
But even in her absence, we overcame this challenge by working overtime and making an extra effort to ensure that all team members were "in the loop" regarding daily project statuses. The release went off without a hitch."
"The bank where I've worked for the last two years strongly encouraged its employees to participate in volunteer community outreach projects. This was a great way to build morale – we had a friendly competition between departments to see how many community service hours we could rack up each month. My department chose to volunteer with Habitat for Humanity on the weekends, and we won the competition for three months running!"
"In high school, I enjoyed playing soccer and performing with the marching band. Each required a different kind of team play, but the overall goal of learning to be a member of a group was invaluable."
"I continued to grow as a team member while on my sorority's intramural basketball team and through my advanced marketing class where we had numerous team assignments."
More Job Interview Questions and Answers
Interview Questions and Answers
Typical job interview questions and sample answers.
Interview Questions to Ask
Questions for candidates for employment to ask the interviewer.
More About Teamwork: How to Respond to Interview Questions About Teamwork | What Strategies Would You Use to Motivate Your Team? | Team Building Skills | Teamwork Skills