Get Answers for Interview Questions About Phone Systems
Answering Multiple Phone Lines and Providing Customer Service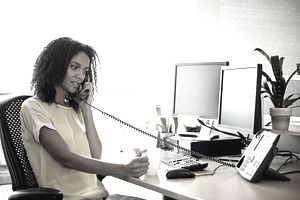 When you are applying for an administrative or office position a typical job interview question is "Are you comfortable using a phone system with multiple lines and handling a high volume of telephone calls?"
Here are sample interview answers which you can edit to fit your personal experiences and background:
Yes, I'm comfortable using multiple phone lines with a high volume of calls and have done so in the past. I'm able to keep the conversations separated, and deal with the clients in a friendly efficient manner.
I haven't directly handled multiple phone lines, but I understand the importance of being courteous and efficient, and I'm a quick learner.
I understand that phone contact is often the first interaction that a customer has with the company, and the first impression is extremely important. It is critical to maintain a friendly, professional manner on the phone at all times.
Composing Your Answers About Phone Systems
Look at your current and previous jobs and make a list of the phone systems you have used. Think also of any unpaid or volunteer jobs, student jobs, and training jobs you had where you answered the phone. You may want to make notes about the phones for each item on your resume to help guide your interview answers.
Which Phone System Does the Job Use?
You may want to do a little research before the interview to see what phone system is used in the office. That can help you prepare for an answer to the question.
You could ask the person who sets up the interview with you. You should also note what phones are being used when you arrive for the interview. Pay attention to how the phone is answered if you make a call to confirm the interview time and place, giving you insight into what will be expected.
Which Phone Systems Have You Used?
What models of phones have you used?
How many phone lines did you handle on each?
What was the usual volume of calls each day?
How often did you have more than one caller at once?
Did you use a headset?
Did you use a speakerphone?
Did you use a conferencing phone system?
Did you use a video phone system?
Which Phone Skills Have You Used?
Placing callers on hold
Screening calls for supervisor
Placing calls for supervisor
Transferring and forwarding calls
Conference calls - setting them up, placing them, managing them, participating in them
Voice mail management
Taking messages
The Customer Service Phone Skills You Have Used
Dealing with angry or frustrated callers
Frontline phone answering for a large office, transferring callers to their intended contacts
Using appropriate business manners and language on the telephone
Courteous and respectful handling of calls to and from higher level executives and clients
Get More Interview Answers