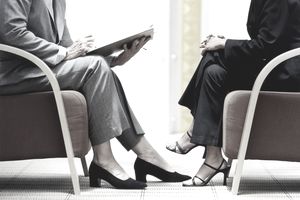 During your job interview, the interviewer might ask you the question, "What are your long-term career goals?" This is similar to interview questions such as, "Where do you see yourself in five years?" and "What are your goals for the next five to ten years?"
An employer will ask you this type of question for a number of reasons. He or she wants to know whether or not you have any long-term visions or plans.
Employers also want to know whether you plan to stay at their company for a while or if you are considering leaving at the soonest opportunity.
It might be difficult to think about the future during your interview, so it's good to plan ahead for such a question. There are several ways to answer successfully. Take a look below for tips on how to answer questions about your career goals and read some sample answers.
How to Answer Interview Questions About Your Career Goals
These tips will help you prepare for questions about your career goals and where you see yourself in the future.
Start with short-term goals, then move to long-term goals. You probably have a good sense of your short-term goals, such as getting a job with an employer like the one you are interviewing for. Start by describing these goals, then move on to more long-term plans.
If you're not clear about your goals, review this guide on how to set career goals.
Then spend some time setting your short and long term career goals.
Explain the actions you'll take. Listing goals is not going to make a strong answer. You also want to (briefly) explain steps you will take to achieve those goals. For example, if you want to take on a management role, explain the steps you have taken, or will take, to become a manager.
Perhaps you are developing your leadership skills by running group projects, or you plan to attend a series of leadership conferences, or you are pursuing a specialized management certification.
Describing your plan demonstrates that you are thinking analytically about your career future and your potential growth within the company. For example, if you plan on furthering your education, explain it in a way that enhances your worth to the company.
Focus on the employer. Even though this question is about you, you want to convey that you won't abandon the employer anytime soon. Mention that one of your goals is to work for a company like the one for which you're interviewing.
Focus on how you'll add value to the company through the achievement of your own goals. Also, convince the employer that working for his or her company will help you achieve your goals for a win/win situation.
Avoid discussing salary. Don't focus on goals related to earnings, raises, bonuses, or perks. You want to focus on the work you hope to achieve, rather than the money you want to make.
Don't get too specific. While you want to present clear goals, do not get into too many details. For example, if you know you want to work for a particular company in a particular position (not the company or position you're interviewing for), don't share this with an employer.
Emphasize more general goals, such as taking on particular responsibilities. This allows you to balance clear aims with a flexible attitude.
Examples of the Best Answers
Here are three example interview answers that you can edit to fit your personal experiences and background:
In the short term, I hope to work as a sales representative for a company such as yours – one with a mission based on great customer service and care. Working as a sales representative for a company I believe in will prepare me to hopefully take on expanded team leadership responsibilities in the future, as these become available.
 
My current, short-term goal is to develop and use my marketing and communications skills in a job similar to this one. However, I eventually want to develop into a position that allows me to continue to use these skills while also managing a marketing group. I will prepare myself for this goal by taking on leadership positions in team projects, and by developing my professional career by attending leadership conferences such as the one put on annually by your company.
 
Although I have just completed my LPN certification, my long-term goal is to take my nursing career to its highest level by eventually earning my RN degree. My plan is to work full time in a long-term care environment or hospital for the next few years, which will give me the experience I'll need in order to excel in an RN program.
Take the Time to Practice
Practice answering questions about your career goals out loud, so you'll be more comfortable during your interview. It's also a good idea to review a variety of job interview questions and answers so you'll be fully prepared.