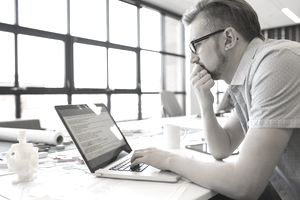 When a family member, friend or colleague loses their job, it can be hard to know what to say. Even though it's probably not the easiest letter or email you have written, getting a supportive message means a lot to the person who has lost their job.
When writing a job loss condolence letter, you don't need to go into details about how the person lost their job i.e. if they were fired or laid-off. You can simply mention that you are supportive, you care about the person, and offer to help, if you can.
If you aren't able to help with a job search or a reference, simply state how sorry you are to hear the news and let the person know you're available, if they would like to talk. Here are some tips for writing a job loss condolence message.
Offer Networking Help
If you are able to provide networking contacts, do so. Offer, in your message, to introduce the person who has lost his or her job to your LinkedIn connections.
Provide a Reference
If you're familiar with the person in a work-related capacity and can endorse them, offer to provide a professional reference. Otherwise, offer to give them a personal reference.
Review a Resume or Letter
It's always helpful to have another pair of eyes review your resume. You don't need to be a professional resume writer to proofread a resume or letter. So, offering to review a resume or cover letters is a great way to offer help.
Refer to Job Search Sites
Do you have a favorite job search site?
Mention it in your condolence message. Mention, as well, if you have a Job Search Forum that's been useful when you have job searched.
Refer to Jobs
Let your unemployed friend, family member, or colleague know that you will keep them in mind if you come across relevant job listings. Offer to send listings that might be a fit.
Ask What They Need
Sometimes, you might be surprised at how much something little can mean to someone who is unemployed. Ask what they need - it could be something as basic as a walk in the park, a cup of coffee or lunch, or a phone conversation. Most importantly, offer to be there for the unemployed person. When you're out of work and trying to navigate a difficult job market, just knowing that you have support can make a big difference.
Job Loss Condolence Message Example
This is an example of a job loss condolence message to send when someone has been fired or terminated from employment.
Message Subject Line: Hello from Your Name

Dear First Name,

Jane Doe informed me that your employment was terminated. It's very unfortunate news and I wanted to see how I could help you during this difficult transition.

If you're available for lunch this week, I'd welcome the opportunity to chat with you to see how I can help. Otherwise, I am available via phone (111-111-1111) in the evening or email (yourname@email.com) any time.

I look forward to hearing from you.

Your Name
Your Email Address
Your Phone Number