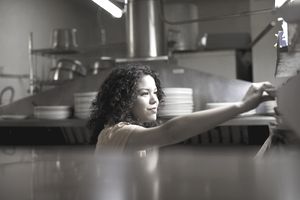 When you get to high school, you begin to have a lot more expenses. Your social life becomes more important, and you likely want to stop relying on your parents for an allowance. You need a job. What kind of jobs can you do when you're 14 or 15 years old?
At age 14, you can work a number of jobs. However, as a minor (under the age of 18), there are limitations to the kind of jobs you can work. Being younger than 16 also limits the number of hours you can work.
But there are still a number of jobs you can get, including jobs in a restaurant, retail store, or other company that hires teenagers.
Of course, you can do casual jobs, such as babysitting, pet sitting, mowing lawns, and helping with household chores. But if you are interested in finding a "real" job, read below for information on where you can work, how many hours, companies that hire teens, and how to go about applying for a job.
When You Can Work
The Fair Labor Standards Act (FLSA) sets requirements related to the employment of minors. According to the FLSA, 14 is the minimum age for work (at least in non-agricultural jobs).
While 14 and 15-year-olds can work, there are limits to the hours they can work. They cannot work during school hours and are limited to a total of 3 hours each school day (18 hours total per school week), or 8 hours each non-school day (40 hours per non-school week).
There are also limits to the times of day a 14 or 15-year-old can work. They can work 7 a.m. to 7 p.m. during the school year (from Labor Day through May 31) and 7 a.m. to 9 p.m. during the summer (between June 1 and Labor Day).
When you reach 16 years old, many of these restrictions are removed. You can work as many hours during any week as you would like.
The only remaining restriction is that you cannot work in a job considered hazardous by FLSA.
Once you turn 18 (and are no longer a minor), there are no limits to how many hours you work, what weeks you work, or where you work.
There are some exceptions to these limits. For example, many states have tighter restrictions on the hours that a minor can work on a farm. Minors employed by their parents, on the other hand, do not have as many restrictions on time and days worked. Check out the FLSA for more specific details.
Where You Can - and Cannot - Work
14 and 15-year-olds can work in restaurants, stores, and other non-manufacturing, non-mining, non-hazardous jobs.
14 and 15-year-olds cannot work in jobs that the Labor Department considers hazardous. These include (but are not limited to) jobs in excavation, manufacturing explosives, mining, and operating some power-driven equipment. Even when the teen turns 16, they still cannot work in these hazardous jobs. Once he or she turns 18, they can work in these hazardous jobs.
As mentioned above, there are also exceptions to these rules, specifically regarding jobs related to agricultural work.
What You Need to Work
In some states, if you're under 18, you will need to obtain working papers to legally be able to work.
Working papers are legal documents that certify that a minor can be employed. They are categorized into two types of certifications: employment certification and age certification.
The rules about who needs working papers vary from state to state. In some states, you will need working papers if you are under 16. In other states, you will need them if you are under 18. There are some states where you won't need any papers at all to get hired.
Here's information on where working papers are required and how to get them.
The best place to find out if you need working papers is your school guidance office or your state department of labor.
List of Job Ideas for 14 and 15-Year-Olds
Here's a list of jobs that make good first (or second) jobs because you don't need the experience to get hired. Also, here is a list of companies that hire high school students.
If you don't want to work during the school year, a summer job might be a great option. Here is a list of summer job options for teenagers.
Job Advice for Teens
Find the top sites for teen job seekers, plus information on jobs for teens, including how to find a job, where to get working papers, where teens can work, what to wear for an interview, and how to obtain references.