15 Jobs for Art History Majors
Curators, conservators, consultants and more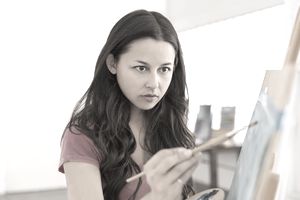 Most people think of an art history major as a path to unemployment or, if you're lucky, a job in a gallery. But there are many career paths and jobs open to art history majors, whether they're into Giotto, Monet or Thiebaud.
Take a look at your favorite museum's staff list and you'll see every type of career, from fundraising and marketing to facility operations and art restoration. There may be just one or a handful of curators, but the rest of the staff includes dozens of employees who handle everything from taking tickets and installing exhibits, to writing the exhibit guide and planning large-scale fundraisers.
Virtually all of them have art or art history backgrounds.
It's important to think outside the gallery too. Walk into any swanky hotel or restaurant these days and you'll see a wide variety of original art. Someone chose those portraits, paintings, and sculptural pieces and for sure, it wasn't the chef or hotelier. It was an art consultant or gallery curator, a trusted go-between who found or commissioned paintings and sculptural pieces to fit a specific space. "Art consultants are a curious breed," says Geoffrey Gorman, founder of GG+A, an arts firm. "They're a mix of agent, private dealer, gallery dealer, interior designer, curator, and traveling salesman - all thrown into one."
Art consultants typically have at least a BA or master's degree in art history, expertise in interior design and architecture, and a wide-ranging acquaintance with galleries and artists around the world. Many have worked for a gallery or auction house.
But what sets art consultants apart is their skill in intuiting and interpreting the preferences of non-arts-savvy clients, finding the appropriate art, and brokering the deal. It's freelance work unless you work for a large art consultant such as Artefact Hotel Art Consultants in London or MFI in New York City.
Salaries run in the $40,000 to $80,000 range, according to InsideJobs.com.
Want all that wrapped up in a tidy "Top 15 Jobs for Art History Majors" list? Here you go:
Gallery curator
Art conservation and restoration
Museum marketing and public relations
Art law and law enforcement, including the FBI's forgery team
Art consultant for a hotel or corporation
Artist management and representation
Museum facilities operations
Museum fundraising and development
Special events planner for a museum or other arts organization
Antiquarian book dealer
Antique dealer
Art and estate appraisal for an auction house or private firm
Art investment consultant
Art museum website design
Exhibit installation