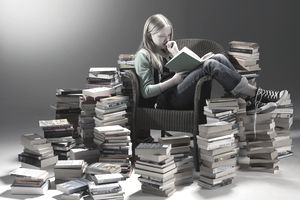 If you majored in English, are majoring in it now or are considering it for the future, no doubt someone has asked you the question "what are you going to do with that?". You may also be wondering about jobs for English majors. In fact, a degree in this subject area can prepare you for a variety of careers. If you want to study literature and writing in college but are worried about what you will do with your degree after graduation, here are some options for you to consider.
Writer or Editor
Writers and editors create or evaluate written content for magazines, newspapers, online media, advertisements, television shows and movies. English majors may become novelists, non-fiction authors, advertising copywriters, website content writers, bloggers, technical writers, screenwriters and playwrights. They may decide on careers as newspaper and magazine editors, online editors and book editors.
More About Being a Writer or Editor
Librarian
Librarians select and organize resources so people can use them effectively. Traditionally they worked with printed materials, but over the years, they have become experts in electronic resources. To become a librarian you will need a Master's Degree in Library Science (MLS). First you will have to earn a bachelor's degree. It can be in English or any subject you choose.
Attorney
Attorneys advise and represent people who are involved in civil and criminal legal proceedings.
After careful analysis, research and discussion with their clients, they present the facts about cases in writing or verbally. To be admitted to law school you will need a bachelor's degree. It can be in any subject that will help enhance your writing, speaking, problem solving, research and analytical skills.
English is a suitable choice.
Secondary School Teacher
Teachers help students learn concepts in a variety of subjects. Generally, they need a bachelor's degree in education. Since middle and high school teachers usually specialize in a discipline, for example, English/language arts, mathematics, social studies, science or a world language, they need to earn a degree in it. Get an English degree if you want to share what you know about that field of study with secondary school students.
Entrepreneur
Entrepreneurs own and operate businesses. Regardless of the nature of your venture, an English degree will certainly help you with the first step you must take—writing a business plan. Without one, you won't be able to get help with financing. People with English degrees are usually good communicators, problem solvers and critical thinkers. Entrepreneurs need to be all those things.
More About Becoming an Entrepreneur
Public Relations Specialist
Public relations specialists represent companies, governments, organizations and individuals to the public. They write press releases and prepare for press conferences, using various forms of media to reach out to the public.
Since there are no standard requirements for working in this occupation, if you choose this career, you should major in a field of study, like English, that will teach you how to communicate effectively.
More About Public Relations Specialists
Reporter
Reporters conduct interviews, do research and write news stories. Some have their work published in newspapers or online. Others deliver their stories on the air during television or radio newscasts. While many employers prefer reporters with a bachelor's degree in journalism or mass communications, some will hire candidates who have studied English.
Advertising Sales Representative
Advertising sales representatives sell space in print publications and time on television and radio broadcasts. Most employers provide sales training but expect employees to bring good verbal and written communication skills to the job.
More About Advertising Sales Representatives
Marketing Manager
Marketing managers are responsible for companies' marketing strategies. They identify markets, set prices and determine how to reach potential customers. Although many employers prefer to hire candidates who have a degree in business, others value English majors' communication skills.