6 Jobs for People Who Like Spending Someone Else's Money
You Can't Keep What You Buy But You Will Get Paid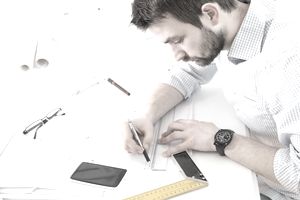 Do you like spending money but don't have an unlimited amount to spare? Who does? Here are 6 jobs that let you spend someone else's dough for a change. And guess what? You'll get paid for it! The only downside is that you don't get to keep what you bought.
How would you like to be able to choose furniture, paint, rugs and accessories every day without spending a penny of your own money?
If you've ever lamented the fact that you have but one home to decorate (and limited resources to do it) you may enjoy working as an interior designer. There are many homes and businesses that can benefit from your sense of style. Interior designers earned a median annual salary of $48,500 in 2013. One must typically spend between two and four years earning a degree from a professional design school or a college or university. Learn More About Being an Interior Designer
Instead of choosing the furnishings for the inside of a home or business, perhaps you'd enjoy designing the building itself. As an architect, you would make decisions regarding a building's style and function. You would specify materials to be used in its construction. Architects earned a median annual salary of $74,110 in 2013. You will need a bachelor's or master's degree in architecture which can take between five and eight years depending on the program you choose.
Learn More About Being an Architect
You may love entertaining but how many parties can you throw? After all, you're not made of money. Did you know you can actually earn a living throwing other people's parties? In addition to arranging private parties, an event planner also coordinates corporate events like business meetings, trade shows and conventions.
If you worked in this occupation you would have to select venues and hire caterers and entertainers. Event planners earned a median annual salary of $46,260 in 2013. While some people who work in this field do not have a college degree, many employers prefer to hire those who have a degree in hospitality or a related major. Learn More About Being an Event Planner
Personal Shopper
If your idea of a great time is spending the day shopping, you may enjoy this occupation. You get to choose items—clothing and accessories, giftware and even groceries—for other people. Of course, you can't buy what you would like, but rather what you think your clients would  based on information you gather from them. They don't have time for or don't enjoy the whole shopping experience (can you imagine such a thing?)  and will be relying on your expertise to help make their lives easier. According to Retail Industry Expert Barbara Farfan, personal shoppers earn between $25,000 and $100,000 per year. She says "this is not an entry level retail position." One needs a proven track record in sales as well as expertise with the same types of products to succeed in this career (Personal Shopper Job Description, Retail Industry).
Do you dream of traveling the world and then awaken to the fact that you have neither the free time or the money to do that? You could become a travel agent and plan vacations for other people although you should be aware that it may not be easy to find a job. Employment in this occupation is expected to decline over this decade. There are still people out there, though, who don't have the time to make their own travel arrangements. Regardless of how easy it is to book travel online, it still takes time, a resource that sometimes is in as short supply as money for many people. Besides, travel agents know how to find all the good deals. Median annual earnings were $34,530 in 2013. While only a high school diploma is required for this occupation, many employers prefer to hire candidates who have some formal training.
Learn More About Being a Travel Agent
Retail Buyer
What occupation can be more about spending someone else's money than this one? Retail buyers purchase merchandise—including clothing, shoes, accessories, electronics and toys—on behalf of retail stores for resale to customers. Median annual earnings were $52,370 in 2013. Educational requirements range from a high school diploma to a bachelor's degree depending on the size of the company (Purchasing Managers, Buyers and Purchasing Agents, Occupational Outlook Handbook, US Bureau of Labor Statistics).