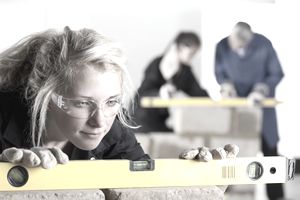 An apprentice prepares for a career by receiving a combination of classroom and on-the-job training. Apprenticeships were originally designed to develop a workforce in the skilled trades, for example construction and manufacturing. Apprentices can now receive job training in a variety of fields including technology and healthcare.
Should you become an apprentice? If you want to enter a highly skilled occupation that doesn't have a bachelor's or more advanced degree among its educational requirements, an apprenticeship may be the best way to receive your training.
As an apprentice, you will get paid while you learn. You may earn college credits as well. 
Here are some apprenticeable occupations: 
Construction Trades
Mason: Masons use bricks, concrete blocks and natural stones to build structures.
Construction Equipment Operator: Construction equipment operators move materials around construction sites.
Construction Helper: Construction helpers assist construction tradespeople like electricians and carpenters.
Healthcare
Dental Assistant: Dental assistants tend to office and laboratory duties in dentists' offices. Some states allow them to also provide patient care.
Medical Secretary: Medical secretaries take telephone calls, make appointments, greet patients and perform other clerical duties in medical offices.
Medical Transcriptionist: Medical transcriptionists translate doctors' dictated recordings into written reports and correspondence.
Office and Administrative Support
Technology
Engineering Technician: Engineering technicians help engineers and scientists solve problems in research and development, manufacturing and construction.
Broadcast Technician: Broadcast technicians use special electrical equipment to regulate the clarity and strength of broadcast signals.
Miscellaneous
Chef or Cook: Chefs and cooks prepare food in dining establishments. Some also supervise other workers.
Cosmetologist or Hairdresser: Cosmetologists, hairdressers and those working in related occupations provide beauty services.
Photographer: Photographers takes pictures in order to record events and tell stories.
Do you want more information about apprenticeships? Read What is an Apprenticeship? to get more facts about this type of training and find out how you can find an apprenticeship.