Learn About Being a Large Animal Veterinarian
Get Career Info About Job Duties, Salary and More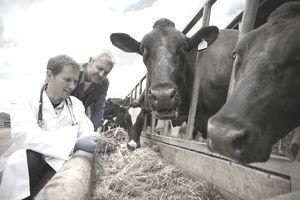 Large animal veterinarians are practitioners that manage the health of livestock species such as cattle, horses, sheep, goats, and pigs.
Duties
Large animal veterinarians are licensed animal health professionals that are trained to diagnose and treat illnesses that affect livestock species. Large animal practitioners commonly treat cattle, horses, sheep, goats, and pigs. They tend to make farm calls to visit their patients, often using a customized truck outfitted with the necessary medical equipment.​
The usual routine for a large animal vet includes conducting health exams, giving vaccinations, drawing blood, prescribing medications, cleaning, and suturing wounds, taking ultrasounds, taking x-rays, and performing surgeries. Other duties may include monitoring the reproductive health of the breeding stock, performing artificial inseminations, assisting with problem births, and conducting pre-purchase exams.
Large animal veterinarians frequently work long hours and spend a great deal of time on the road as they travel from farm to farm. They also must be on call for potential emergencies on weekends and holidays. The work itself can be particularly demanding for large animal vets, as they must be capable of restraining and treating animals of substantial size. Large animal vets must be careful to take safety precautions while treating their patients.
Career Options
According to statistics from the American Veterinary Medical Association (AVMA), more than 75% of vets work in private practice.
The vast majority of practitioners work on small animals. While most large animal vets work on a variety of livestock species, some choose to focus on offering services exclusively for equine, bovine, or porcine patients. Others offer mixed practice services for both large and small animals.
Outside of private practice, vets also find work as educators, pharmaceutical sales representatives, military veterinarians, government meat inspectors, and research scientists.
Education and Training
All large animal veterinarians graduate with a Doctor of Veterinary Medicine degree. The DVM program is a rigorous course of study that covers all aspects of health care for both small and large animal species. There are currently 30 colleges of veterinary medicine in the United States that offer an AVMA-accredited DVM degree.
Upon graduation, vets must pass the North American Veterinary Licensing Exam (NAVLE) to gain their credentials to practice medicine. Approximately 2,500 veterinarians graduate, pass the NAVLE exam and enter the veterinary field each year. At the end of 2015, according to the AVMA employment survey, there were 105,358 practicing veterinarians in the United States. Large animal exclusive vets made up less than 8% of that total.
Professional Associations
The American Veterinary Medical Association is one of the most prominent veterinary organizations, representing over 80,000 practitioners. Other groups for large animal practitioners include the American Association of Bovine Practitioners (AABP) and the American Association of Small Ruminant Practitioners (AASRP).
Salary
The median wage for veterinarians is approximately $87,590 according to the Bureau of Labor Statistics salary data in 2014.
Earnings reportedly ranged from $52,530 in the lowest compensated tenth of all vets, while the top tenth of all vets earned more than $157,390.
According to the AVMA, the median professional income for food animal exclusive veterinarians (before taxes) was $103,000 in 2009; this was the highest median among all branches of veterinary private practice. Food animal predominant veterinarians earned a median professional income of $91,000.
In terms of average starting salary right out of veterinary school, large animal vets begin their career with a mean compensation of $71,096 for food animal exclusive practice and $67,338 for food animal predominant practice.
Veterinarians who are board certified in a particular specialty area (ophthalmology, oncology, surgery, etc) generally earn significantly higher salaries as a result of their advanced education and experience.
As of 2015, AVMA data indicated there was 561 board certified large animal internal medicine diplomates and 307 board certified large animal veterinary surgeons.
Job Outlook
According to data from the Bureau of Labor Statistics, the veterinary profession will expand at a rate of 9 percent over the decade from 2014 to 2024. This is faster than the average for all positions considered in their salary survey data.
A December 2015 AVMA employment survey found that there were more than 87,000 vets in private practice. Of that number, there were 3,655 veterinarians in food animal predominant practice and 1,969 veterinarians in food animal exclusive practice.
Since most vets choose to go into small animal exclusive practice (nearly 45,000 currently employed in this type of work), there should be a continued need for large animal veterinarians in the marketplace, especially in rural areas.