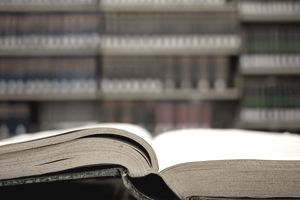 Lawyers undergo extensive educational training to become licensed to practice law. Although requirements vary by state, education for lawyers includes:
a four-year undergraduate degree
three years of law school
passing the bar examination for every state in which you wish to practice
passing an ethics examination (required by most states)
Bachelor's Degree
A four-year degree from an accredited college or university is a pre-requisite to acceptance at an ABA-accredited law school.
Students are not required to major in pre-law. Law schools accept a diverse pool of applicants with many different majors and backgrounds.
Law School
To qualify for the bar examination in most states, lawyers must graduate from a law school approved by the American Bar Association. ABA accreditation signifies that the law school has satisfied certain standards established to ensure a quality legal education. Although not all law schools are ABA-approved, attending a non-ABA approved can significantly hinder your employment prospects.
Individuals planning to attend law school must first take the Law School Admission Test (LSAT), a half-day standardized examination that tests analytical and reading comprehension skills deemed necessary to succeed in law school.
Bar Examination
Law school graduates who wish to be admitted to practice law must pass a 2-day bar examination that tests general legal principles and substantive knowledge of the law.
Although requirements vary by state, generally one day of the examination consists of a standardized multiple-choice test and the other day consists of a series of essays questions design to test knowledge of state law.
Ethics Examination
Many states also require lawyers to take an ethics examination which tests knowledge of the codes professional responsibility and judicial conduct.
In some states, students may take this examination during law school, usually after completing an ethics course.