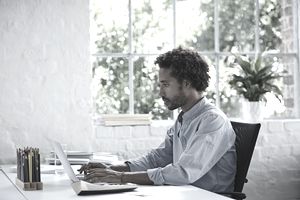 Every day, more and more studentsare being asked to participate in Skype interviews for their summer internships. Typically, this happens because they go to school in a city that's quite the distance from where the potential internship opportunity is located. Skype, provides a quick solution for employer's that need face time with students who couldn't otherwise get it without asking the students to travel.
With many companies cutting back on their campus recruiting and with the fierce competition for internships and jobs, Skype offers an easy, no-cost way for applicants to interview for those highly regarded opportunities with minimal work from both interviewer and applicant.
For a Skype interview, you only need to have the Skype program downloaded on your computer. You can also download the Skype app on your phone, but it's not quite as reliable. Today, you typically don't need an external microphone or webcam as these are built into most computers that were made over the past few years. If your computer is older, you might need to get a webcam and/or microphone. 
Remember, Skype is a free download and offers the ability to interview around the world – with anyone! With a different type of interview, comes a different set of interview tips.
Top Tips for a Successful Skype Interview
Practice makes perfect. Go into your career center and ask if they'll do a mock interview with you.
The way you appear on Skype can feel slightly different than the way you do in person. Do a few practice interviews and ask for feedback on your interview skills.
Create Your Set. You want to make sure you angle your computer correctly and sit with a proper basic background behind you. Try to avoid interviews in your bedroom or with big art behind the walls.
Remember, you are a professional – your background should look professional as well.
Look at the Camera. When most people are doing Skype interviews, they tend to look at themselves. You want to make eye contact with the employer and the way to do this is actually to avoid looking directly at yourself and to look right into the camera. Think of this as your way to make direct eye contact.
Dress for Success. Yes, this is a virtual interview but they can see you! Make sure you are dressed up as if you were going into the office. A button down and a blazer is always a great choice for a Skype interview (for guys and girls).
Check the Employer Skype Name. In order to do a Skype interview, you will need to connect with the employer on Skype a few minutes before the interview (think AOL instant message). You'll need their Skype username in order to connect. Make sure you find the employer on Skype the day before the interview. You want to allow time just in case you have an issue finding their username.
Confirm Volume, Etc. Before you start the interview, confirm that the employer can hear you and see you properly. You want to make sure everything is working properly before you get started.
Pump up the Energy. You have a virtual wall between you and the employer, you still want to show off your personality. Make sure that you are upbeat and energetic during the interview and that shows through to the employer. This is a great topic to ask your career center about during your mock interview.
Take It Seriously. Although it may not feel as intense because you are not at a company HQ, take the Skype interview seriously. This is the way the company is choosing to pick their interns. If you don't take it seriously, that will show in the interview.
Articulate Your Words. Again, you have a virtual wall between you and the employer. Make sure you don't speak too fast and don't rush your words. Take the time to clearly articulate everything you are trying to say.
Show Your Passion. Just as you would in an in-person interview, make sure the employer leaves that Skype interview knowing how passionate you are about the company.
If you aren't able to express that while answering questions, make a point to mention that at the end of the interview. "I just wanted you to know how passionate I am about this company and this specific internship position. I really would love to work with you."