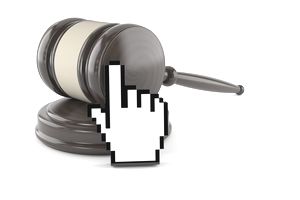 One of the easiest ways to locate current job openings is through online employment boards and job listings. Career search engines have experienced huge growth as job hunters navigated an ever-increasing number of job openings.
Some cater specifically to law and job openings in the legal field. Other more general sites have good legal postings. Here are a few of these resources that can help you get started on your legal job search.
LawCrossing: LawCrossing maintains a collection of over 70,000 active legal jobs throughout the world and "continuously monitors the hiring needs of more than 250,000 legal employers, including virtually every law firm, corporation, government office, and public interest organization in the United States." It claims to identify more than 500 new available legal jobs every hour.
Monster.com: Another hugely popular job-hunting website, Monster.com is generic, not specifically geared to the legal profession, but you can search hundreds of thousands of jobs, build and post your resume and access thousands of pages of career info and advice. Monster.com also offers company research information, career advice, scholarship searches, international jobs and information on online degrees.
BCG Attorney Search: BCG Attorney Search is one of the largest legal recruiting firms in the U.S. Dedicated exclusively to attorney listings, it maintains a job database that matches current openings with your skills and career objectives.
Lawmatch: Lawmatch offers free and fee-based services that match your employment profile to online classified ads for attorneys, law students, paralegals and other legal professionals, including full-time, part-time or contract opportunities.
Simplylawjobs.com; Simplylawjobs.com maintains an employment database of over 10,000 legal jobs, mostly in the United Kingdom. It serves both law firms and those looking for jobs with those firms. 
Mylawjob.com: Mylawjob.com offers a job database of several thousand legal jobs. It doesn't have the visual appeal of some of these other sites, but it's comprehensive and you can sort the listings by state. It's generally free to use, but with a caveat. You may be charged a fee if you're a "heavy user." 
U.S. Courts: For individuals seeking a job with the government, U.S. Courts maintains a list of employment opportunities in the federal judiciary. The U.S. DOJ website also offers a list of job vacancies at the United States Department of Justice.
ABA Law Student Division Career Information Center: This American Bar Association site, Legal Career Central, has job boards, information on networking opportunities, internships and other resources.