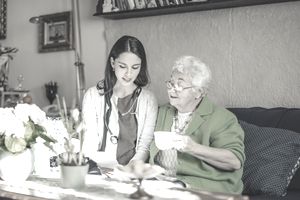 Social workers help their clients function better in society. Some social workers help individuals or families identify and apply for the social services they need. Others provide counseling, assessment, and even clinical diagnostic services in schools or other group settings. Social workers also work as advocates for individuals or for the community, trying to make society a more functional, supportive place.
Licensing varies from state to state. In general, to call yourself a social worker, you must have a degree in social work, plus a minimum number of hours of supervised experience.
As a social worker, you could work in a school, hospital, senior center, prison, corporation, or private practice. You could also serve as the director of a social or community service organization.
Social workers must be empathetic, yet objective, self-aware, engaged, and motivated by a genuine desire to help the clients. Social work is not a field where you can succeed without a real sense of mission.
Social work can be a rewarding lifelong career, and is an occupation with many possibilities for employment. Social work services are needed just about everywhere in the country, so if you anticipate needing to move, it could be a great career for you.
This information on social work skills will help you learn to present yourself in your best light to potential employers.
You can then adapt your approach as needed for each position you apply for.
Top 5 Most Sought-After Social Work Skills
Active Listening
Active listening means paying attention to, and remembering, what others tell you. It also means demonstrating that you are listening through body language and appropriate responses.
As you listen, analyze what you hear in its proper context and ask clarifying questions to be sure you understand. Active listening is not only an important way to collect patient information, it is also part of how you establish trust.
Verbal Communication
Good verbal communication takes active listening one step further. By adjusting one's speaking style to the situation, a social worker can be effective in any setting, from a home visit with clients to a court room or legislative hall. Being able to connect in conversation with many different people is critical to serving clients well.
Written Communication
Excellent written communication includes not only email, but also record-keeping. Clear, accurate reports, progress notes, and other documentation are a critical part of team-work at social services agencies. As a social worker, your written records are the primary tool your supervisor has for evaluating your skill. If a legal problem develops, reliable record-keeping could save your job, or even your career.
Critical Thinking
Social workers must make important decisions based on a thorough understanding of the client's needs and situation, the available resources, and applicable law.
Critical thinking is what allows you to make those decisions with intelligence, creativity, and kindness. Without this important skill, a social worker might miss clues, overlook opportunities, or act on personal bias.
Boundary Setting
Social work is about giving, but if you give too much for too long, you will burn out. If you try to do too much too quickly for one client, you will fail—and you will not be available to help anyone else. Setting appropriate boundaries will protect you from burn-out and will also keep you focused as you establish goals and coordinate treatment.
Social Work Skills
A – G
H - M
N – S
T - Z
How to Use Skills Lists
Each job requires a unique skill set and background, but certain abilities are sought after by most organizations looking to hire social workers. You can review these skills as you begin your job search. Identify those you have, and highlight them in your resume.
When you apply for a position, make sure to read the job description carefully so you can focus on the skills this particular employer most wants to see. You can then mention these skills in your cover letter and in your interview. Be prepared with specific examples of how you embody each one.
Related Articles: Soft vs. Hard Skills | How to Include Keywords in Your Resume | List of Keywords for Resumes and Cover Letters | Skills and Abilities | Resume Skills Lists