List of Teamwork Skills
Teamwork Skills for Resumes, Cover Letters, and Interviews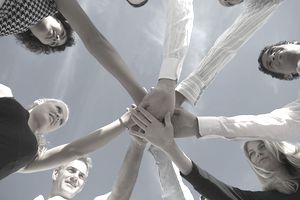 Employers expect employees to be team players. Teamwork is required for almost every industry, ranging from business services to information technology to food services.
This is true even if it seems like your job is best suited for an independent worker. You may perform the bulk of your job duties alone, but you'll still have to be able to think of your work in the context of the company's larger goals, and communicate your accomplishments to other people at the organization.
Regardless of your role, you need to be able to work well with others – and convey that fact to hiring managers, recruiters, and prospective employers. Scan any job listing and you'll see that even ads that seek "self-starters" also inevitably drop the phrase "team player."
Here's a list of teamwork skills that employers are looking for in resumes, cover letters, job applications and interviews. Emphasize the ones that are mentioned in the job description, but feel free to round out your application by mentioning others that apply.
How to Use Skills Lists
You can use these skills lists throughout your job search process. Firstly, you can use these skill words in your resume. In the description of your work history, you might want to use some of these keywords.
Secondly, you can use these in your cover letter. In the body of your letter, you can mention one or two of these skills, and give a specific example of a time when you demonstrated those skills at work.
Finally, you can use these skill words in your interview. Make sure you have at least one example for a time you demonstrated each of the top five skills listed here. Choose stories that emphasize your skills and show how they help you to solve the organization's problems. Be as specific as possible.
Include numbers, percentages, dollar signs.
Of course, each job will require different skills and experiences, so make sure you read the job description carefully, and focus on the skills listed by the employer.
Also review our other lists of skills listed by job and type of skill.
Top 5 Teamwork Skills
Communication
Being a good team member means being able to clearly communicate your ideas with the group. You must be able to convey information via phone, email, and in person. You want to make sure your tone is always professional but friendly. Both verbal and nonverbal communication are important when working with a group in person.
Conflict Management
An important teamwork skill is being able to mediate problems between team members. You need to be able to negotiate with your team members to settle disputes, and make sure everyone is happy with the team's choices.
Listening
Another important part of communication is listening well. You need to listen to the ideas and concerns of your peers in order to be an effective team member. By asking questions for clarification, demonstrating concern, and using nonverbal cues, you can show your team members that you care and understand them.
Reliable
You want to be a reliable team member so that your coworkers can trust you.
Make sure you stick to deadlines, and complete any tasks you are assigned. This will help you gain your colleagues' trust.
Respectful
People will be more open to communicating with you if you convey respect for them and their ideas. Simple actions like using a person's name, making eye contact, and actively listening when a person speaks will make the person feel appreciated.
Teamwork Skills List
A - G
    Acknowledging Others
    Advising
    Commitment
    Communication
    Community Building
    Confidence
    Confidence Building
    Contributing
    Cooperation
    Coordination
    Creativity
    Defining Problems
    Dependable
    Dependability
    Encourage
    Encouragement
    Expanding Ideas
    Flexibility
    Give Feedback
    Goal Setting
    Guide
    Group Decisions
    Group Decision Making
H - M
    Hearing Concerns
    Helpfulness
    Helping
    Honesty
    ICTs
    Idea Exchange
    Influencing
    Interpreting
    Language
    Lead
    Logic
    Logical Argument
    Mediation
N – S
    Opinion Exchange
    Oral Communication
    Participation
    Patience
    Perform Tasks
    Persuading
    Positive Attitude
    Questioning
    Receive Feedback
    Relationship Building
    Reliable
    Research
    Respect
    Respectful
    Responsibility
    Sharing Credit
    Support
    Supportive
T – Z
    Team Building Activities
    Team Oriented
    Tact
    Task Management
    Teaching
    Trust
    Understanding Feelings
    Visual Communication
Skills Lists: Employment Skills Listed by Job | Lists of Skills for Resumes | Team Building Skills | Skills Not to Put on Your Resume
More About Skills: Soft vs. Hard Skills | How to Include Keywords in Your Resume