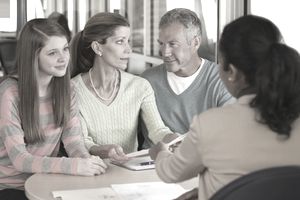 Loan officers work for banks and other financial institutions. They help individuals and businesses obtain funds from these lenders. Loan officers specialize in commercial, consumer and mortgage loans.
Employment Facts
Loan officers held approximately 328,000 jobs in 2008.
Educational Requirements for Loan Officers:
To work as a loan officer one must generally have a bachelor's degree in finance, economics or a related field.
Other Requirements
Job candidates for loan officer positions should be familiar with computers and their applications in banking. While there are currently no specific licensing requirements for loan officers working in banks or credit unions, training and licensing requirements for loan officers who work in mortgage banks or brokerages vary by state. These criteria also may vary depending on whether workers are employed by a mortgage bank or mortgage brokerage.
Advancement
Capable loan officers, once experienced, may move to larger branches of their firms or to managerial positions. Some may eventually supervise other loan officers and clerical staff.
Job Outlook
Employment of loan officers is projected to increase about as fast as the average for all occupations through 2018. Those with college degrees or experience have the best prospects.
Median annual earnings of loan officers were $54,880 in 2009.
Use the Salary Wizard at Salary.com to find out how much loan officers and loan counselors currently earn in your city.
find potential clients, individuals or businesses, in need of loans;
specialize in commercial, consumer, or mortgage loans;
often act as salespeople, persuading clients to obtain loans from their institutions;
help clients apply for loans;
analyze and verify the application to determine the client's creditworthiness;
Source:
Bureau of Labor Statistics, US Department of Labor, Occupational Outlook Handbook, 2010-11 
Employment and Training Administration, US Department of Labor, O*NET Online, Loan Officers, on the Internet (visited November 29, 2010).