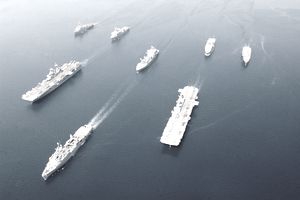 Machinist's Mates (MMs) operate and maintain steam turbines and reduction gears used for ship propulsion and auxiliary machinery such as turbogenerators, pumps, and oil purifiers. They also maintain auxiliary machinery outside of main machinery spaces, such as electrohydraulic steering engines and elevators, refrigeration plants, air conditioning systems and desalinization plants. They may also operate and maintain compressed gas producing plants.
The Duties Performed by MMs Include:
aligning piping systems for oil, water, air and steam, and controlling the operation of ship boilers and steam turbines used for ship propulsion and service systems;
controlling operation of turbogenerators used to produce electrical power;
cleaning, adjusting, testing and performing other preventive maintenance on a ship's boilers, main engines, turbogenerators and other auxiliary machinery including steering engines, elevators, winches, pumps and associated valves;
operating and maintaining desalinization plants (distilling plants) to make fresh water from sea water;
maintaining refrigeration plants, air conditioning systems, and galley equipment;
repairing or replacing valves, pumps, heat exchangers, compressors, steam turbines and hydraulic or pneumatic control devices;
making entries in and analyzing machinery operating records and reports.
Working Environment
Machinist's mates work within the hull of a ship in fire rooms, boiler rooms, engine rooms or shops.
These locations are sometimes hot and noisy. MMs may be required to perform some heavy physical work. They must be able to work closely with others and, in some cases, with limited supervision.
A-School (Job School) Information
Great Lakes, IL -- 8 weeks
ASVAB Score Requirement: VE + AR + MK + AS = 195 or VE + AR + MK + AO = 200
Security Clearance Requirement: None
Other Requirements
Normal hearing required. Frequencies: 3000hz 4000hz 5000hz 6000hz Average hearing threshold level in these four frequencies must be less than 30db, with no level greater than 45db in any one frequency. If hearing level exceeds these limits, the applicant is enlistment ineligible for the rating.
Sub-Specialties Available for This Rating: Navy Enlisted Classification Codes for MM
Current Manning Levels for This Rating: CREO Listing
Note: Advancement ( promotion ) opportunity and career progression are directly linked to a rating's manning level (i.e., personnel in undermanned ratings have greater promotion opportunity than those in overmanned ratings).
Sea/Shore Rotation for This Rating
First Sea Tour: 54 months
First Shore Tour: 36 months
Second Sea Tour: 36 months
Second Shore Tour: 36 months
Third Sea Tour: 36 months
Third Shore Tour: 36 months
Fourth Sea Tour: 36 months
Forth Shore Tour: 36 months
Note: Sea tours and shore tours for sailors that have completed four sea tours will be 36 months at sea followed by 36 months ashore until retirement.
Much of the above information courtesy of the Navy Personnel Command