Maintenance Job Titles and Descriptions
Jobs in Trades, Facilities Management, and More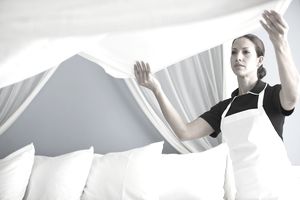 Maintenance workers handle a wide range of tasks that vary by industry and employer. They work in a variety of settings: some work in a single building (such as a hotel or hospital), while others are responsible for multiple buildings (such as a college campus or housing complex). However, all maintenance jobs involve working to keep a facility operating smoothly, and they all require a number of the same maintenance skills.
Maintenance workers also have a number of job duties in common. Read below for a description of common maintenance job duties.
Also read below for an extensive list of maintenance job titles. Use this list when searching for a job in maintenance. You might also use this list to encourage your employer to change the title of your position to fit your duties. For example, if you receive a promotion, you might want to request a job title change to match your new responsibilities.
Maintenance Job Duties
Repair Fixtures and Equipment
Maintenance workers have many of the same skills as people in construction. On any given day they may be painting a hallway, replacing a toilet, or fixing a sink. In a manufacturing plant they might be replacing a worn machinery part, and in an office they might be installing or fixing a lighting fixture. Maintenance workers have the basic skills of a carpenter, electrician, plumber, painter, mechanic, and HVAC technician all rolled into one.
It's also their job to call on a licensed professional with proper expertise when needed.
Routine Maintenance
Maintenance workers also perform a certain amount of upkeep, both to keep a building looking ship shape and to maintain a safe environment. This could involve anything from cleaning and replacing air conditioner filters to fixing a broken tile or a light that's burned out.
Building maintenance workers also perform inspections to figure out what issues need attention. In industrial work, maintenance workers might have set duties involving procedures to perform on machinery and equipment.
Cleaning
Some maintenance workers will have cleaning duties as part of their job. This might involve cleaning as needed as the result of an issue. For instance, if a pipe bursts, the maintenance worker would have to clean up the area after a flood or deal with damaged floors or carpeting. Additionally, the work may involve regular cleaning tasks like cleaning floors, windows, and carpets.
Maintenance Job Titles
Below is an extensive list of maintenance job titles. These titles are organized by category, based on industry. Keep in mind that this list is not complete; there are many other maintenance job titles. However, this is a helpful list that can give you a sense of the diverse maintenance jobs out there.
Electrical
Electric/Electronics Technician
Electric Home Appliance and Power Tool Repairer
Electric Meter Installer and Repairer
Electric Motor Assembler
Electrical Powerline Installer/Repairer
Electrical Utility Trouble Shooter
Grounds Maintenance and Cleaning
Construction Painter
Custodial Manager
Custodian
General Laborer
General Maintenance Worker
Greenskeeper
Grounds Maintenance Worker
Groundskeeper
Groundskeepking Worker
Handyman
Housekeeper
Housekeeping Dispatcher
Janitor
Landscaper
Landscaping Worker
Laundry Attendant
Maintenance Painter
Maintenance Planner
Pesticide Handler
Pruner
Tree Trimmer and Pruner
Vehicle Washer/Equipment Cleaner
Industrial Maintenance Worker
Aviation Maintenance Worker
Dairy Processing Equipment Repairer
Industrial Cleaner
Industrial Machinery Mechanic
Interior Aircraft Assembly Worker
Machinery Maintenance Worker
Safety Technician
Management and Executive Roles
Assembly Supervisor
Building and Grounds Supervisor
Building Maintenance Manager
Builder Operations Manager
Campus Maintenance Manager
Clinical Facilities Planning Manager
District Technical Service Manager
Electrical Superintendent
Estimating Manager
Facilities Director
Facilities Management Executive
Facility Manager
Facilities Planner
Facilities Supervisor
Field Operations Executive
Field Operator
Field Service Coordinator
Floor Technician
Head of Housekeeping
Housekeeping Manager
Housekeeping Supervisor
Installation & Maintenance Executive
Installation & Maintenance Technician Director
Lawn Service Manager
Maintenance and Service Manager
Maintenance Supervisor
Operations Manager
Pipeline Executive
Production Supervisor
Property Manager
Security Director
Spares Coordinator
Waste Water Treatment Plant Manager
Pipeline Work
Pipeline Director
Pipeline Maintenance Manager
Pipelines Manager
Pipeline Operations Manager
Pipeline Technician
Powerhouse Supervisor
Trades
Brazer
Bricklayer
Carpenter
Concrete Finisher
Cutter
Elevator Installer/Repairer
Grinder
HVAC Mechanic
Jig and Fixture Builder
Lineman
Locksmith
Mason
Mechanic
Millwright
Painter
Pest Control Technician
Pipefitter
Resteel ironworker
Solderer
Steamfitter
Structural Assembler
Structural Ironworker
Welder
Lists of Job Titles
More information on job titles and lists of job titles for a variety of occupations.
Job Title Samples
Sample job titles and job title lists categorized by industry, type of job, occupation, career field, and position level.