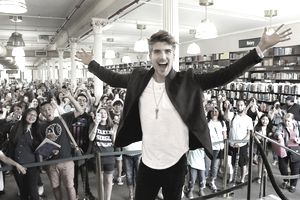 Bricks-and-mortar bookstores are booksellers that have a physical retail presence, whether a freestanding building or a store in a shopping mall. 
Major Brick-and-Mortar Bookstores Are Important to Book Marketing
For centuries, bookstores were the main centers of commerce for the bookselling industry and book-buying public. Now, while some consumer dollars have shifted away from print books to e-books, bookstores remain hubs for those who like the feel of holding a book in their hands and browsing the stacks to see before they buy.
Therefore, despite Amazon.com's domination of online retail bookselling and digital book sales, bookstores as we have known them continue to retain a critical role in the book publishing industry. Following are the major bookstores in the United States.
In bricks-and-mortar store promote books in numerous ways, including: 
Author readings and signings
Promotional signage 
Point-of-purchase promotion, such as newsletters, bookmarks, bags
On-table promotion - these feature seasonal, holiday or category-specific books.
Endcap promotions - these are the books displayed thematically at the end of a row of books. 
"Handselling" - that is, when the staff at a bookseller personally recommends a book to a customer.
Note that many of these promotions are funded by the publisher by way of cooperative advertising funds. 
Major Bookstore Chains
The major bookstore chains are especially important to publishers and authors for their potential ability to buy and sell large quantities of new books and to stock backlist sellers, as well as their ability to promote books to the book-buying public through chain-wide bookstore promotions.
The chain begun by Len Riggio when he was still a college bookstore manager is arguably the largest and most forward-thinking chain bookseller in the nation. Early in its history, Barnes & Noble differentiated itself with a number of bookselling innovations including television advertising, "value" pricing, publishing proprietary books, and deep discounting of bestsellers, and has remained on the forefront of bookselling in all its iterations, including online (bn.com) and e-books, with its Nook e-reader.
The Barnes & Noble Bookseller chain operates approximately 700 bricks-and-mortar retail bookstores in regional shopping malls, major strip centers and freestanding locations in 50 states, and 636 college bookstores across the United States.
In 2016, B&N began to further leverage the power of its bricks and mortar stores by offering promotional inclusion for self-published books that hit a certain threshold of B&N ebook sales. Read more about the history of Barnes & Noble and Len Riggio.
Books-A-Million 
Books-A-Million (or BAM, as it is often referred to) is based in Birmingham, Alabama, and operates approximately 250 stores in 31 states and the District of Columbia. The chain was founded in 1917 as a street corner newsstand in Florence, Alabama. Since the closing of the Borders Group bookstore chain, it has been the second largest bricks-and-mortar book retailer in the United States.
The acknowledged originator of the book "superstore" concept and once the second-largest bookstore chain in the U.S., the Borders Group a publicly held bookstore chain that operated Borders superstores and Waldenbooks Specialty Retail segment stores, including Waldenbooks, Borders Express and Borders airport stores.
Lagging behind on the digital revolution, the last Borders store closed in September of 2011. (Read about the origins, the history and the demise of the ill-fated Borders Group)
Major Independent Bookstores
Major bricks-and-mortar booksellers aren't limited to bookstore chains. 
Throughout the United States, there are a number of major independent booksellers, most with one or a few outlets, too few or too localized to be considered "chain bookstores."
These independents booksellers are influential in the publishing industry not only because of their ability to move quantities of books relative to many other independent bookstores, but because of their great reputations in their respective communities, the loyalty of their customer base and the business savvy of their ownership, who have continued to be committed to bookselling through a tough and volatile business landscape.


Some major independents in the United States include:
Book Soup in Los Angeles, CA
Elliott Bay Book Company in Seattle, WA
Joseph-Beth Booksellers, Lexington, KY, Cleveland, OH, and Cincinnati, OH
Northshire Bookstore in Manchester, VT
Powell's Books in Portland, OR
R. J. Julia in Madison, CT
Tattered Cover Book Store in Denver, CO
Vroman's Bookstore in Pasadena, CA