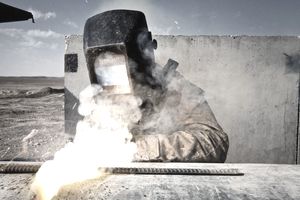 Type of MOS : PMOS
Rank Range: SSgt to Pvt
Job Description: Metal workers examine drawings and work orders; determine sequence of operations, materials, tools, equipment, time, and personnel required. They also perform installation, operation, maintenance and repair of metalworking, and welding equipment and material.
Job Requirements:
(1) Must possess an MM score of 95 or higher.
(2) Complete the Basic Metal Workers Course, U.S. Army Ordnance School, Aberdeen Proving Grounds, MD.
(3) Meet the physical requirements of TM 11275-15/4.
(4) Must have normal color vision.
Duties: For a complete listing of duties and tasks, refer to MCO 1510.95, Individual Training Standards.
Related Department of Labor Occupation Codes :
(1) Welder, Combination 819.384-010.
(2) Welding Supervisor 819.131-014.
Related Marine Corps Jobs:
Aircraft Welder, 6043.
Above information derived from MCBUL 1200, parts 2 and 3