Marine Corps Enlisted Job Descriptions
MOS 5816 -- Special Reaction Team (3RT) Member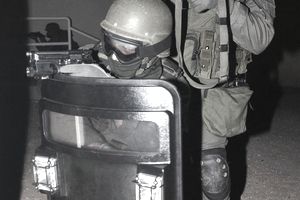 Type of MOS : NMOS
Rank Range: GySgt to Cpl
Job Description: A special reaction team is comprised of military police personnel trained to give an installation commander the ability to counter or contain a special threat situation surpassing normal law enforcement capabilities. All team members should be cross-trained in all team duties. .As a minimum, the special reaction team must be capable of isolating a crisis scene, providing proficient marksmanship support, conducting tactical movement anj building entry, and clearing of buildings in a variety of light and weather conditions.
Job Requirements:
(1) Must currently hold MOS 5811.
(2) Must have obtained the grade of corporal or higher.
(3) Must be a volunteer.
(4) Possess a high degree of maturity and self-control.
(5) Maintain minimum first class physical fitness standards.
(6) Qualify as an expert with service rifle and pistol.
(7) Complete the Special Team Course, U.S. Army Military Police School.
Duties: For a complete listing of duties and tasks, refer to MCO 1510.86, Individual Training Standards.
(1) Police Officer 375.263-014.
(2) Sheriff, Deputy 377.263-010.
(3) Tactical Officer.
Related Marine Corps Jobs:
Marine Corps Security Force (MCSF) Close Quarters Battle (CQB) Team Member, 8154.
Above information derived from MCBUL 1200, parts 2 and 3