Marine Corps Enlisted Job Descriptions
MOS 6174 -- Helicopter Crew Chief, UH-1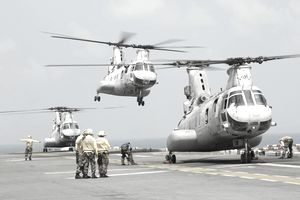 Type of MOS : PMOS
Rank Range: GySgt to Pvt
Job Description:Helicopter crew chiefs, UH-1; are flight crewmembers that perform duties incident to the maintenance and operation of Marine UH-1 helicopters.
Job Requirements:
(1) Must possess an MM score of 105 or higher.
(2) Must have normal color perception.
(3) Must be eligible for a secret security clearance.
(4) Volunteer for duties involving flight as an aircraft crewmember.
(5) Must be a 2d class swimmer or higher.
(6) Meet the requirements of OPNAVINST 3710.7 and the USN Manual of the Medical Department with normal depth perception.
(7) Complete the Naval Aviation Air crewman Candidate School at NATTC, NAS Pensacola, FL.
(8) Complete Survival, Evasion, Resistance, and Escape (SERE) School at Brunsick, ME.
(9) Complete the appropriate formal (combined) "A" and "C" school, CH-53E Crew Chief Training Syllabus at CNATT MAR Unit, MCAS New River, NC.
(10) Complete the appropriate formal "C" school, UH/HH-l Marine enlisted Aircrew at HMT-303 FRS (Flight Training) MCAS Camp Pendleton, CA.
(11) Must complete the Plane Captain (PC) Ground Syllabus for type aircraft.
Duties: For a complete listing of duties and tasks, refer to MCO P3500.14 and MCO P3500.50, Aviation Training and Readiness (T and R) Manual, and MCO P4790.20, Maintenance Training Management and Evaluation program (MATMEP) for MOSs 61l4-6174.
Related Department of Labor Occupation Codes :
Flight Engineer 621.261-018.
Related Marine Corps Jobs:
Helicopter Mechanic, 6113.
Above information derived from MCBUL 1200, parts 2 and 3