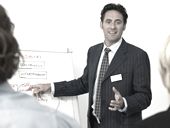 Job Description
A marketing manager formulates a firm's marketing strategy. With the assistance of a marketing or sales team, a marketing manager estimates demand for and identifies markets for the company's or organization's products and services. A marketing manager and his or her team also set prices with an eye toward maximizing profits, increasing market share and keeping customers happy.
Employment Facts
There were 176,000 marketing managers employed in 2008.
To work as a marketing manager one must usually have either a bachelor's or master's degree in marketing or a master's degree in business administration (MBA) with a concentration in marketing.
Why Do You Need to Know About Educational Requirements?
Other Requirements
Most employers prefer to hire job candidates who have strong computer skills. In addition, employers value those with strong and persuasive communications skills, both in writing and orally.
Advancement Opportunities
Marketing managers are generally promoted to these positions after working in related fields.
Why Do You Need to Know About Advancement?
The job outlook for marketing managers is good. The U.S. Bureau of Labor Statistics predicts that this field will grow as fast as the average for all occupations through 2018.
Why Do You Need to Know About Job Outlook?
Earnings
Median annual earnings of marketing managers were $110,030 in 2009.
Use the Salary Wizard at Salary.com to find out how much a marketing manager currently earns in your city.
A Day in a Marketing Manager's Life
On a typical day a marketing manager's duties might include:
Formulating, directing and coordinating marketing activities and policies to promote products and services, working with advertising and promotion managers.
Identifying, developing and evaluating a company's or organization's marketing strategy, based on knowledge of it's objectives, market characteristics, and cost and markup factors.
Directing the hiring, training, and performance evaluations of marketing and sales staff and overseeing their daily activities.
Evaluating the financial aspects of product development, such as budgets, expenditures, research and development appropriations, and return-on-investment and profit-loss projections.
Developing pricing strategies, balancing firm objectives and customer satisfaction.
Sources:
Bureau of Labor Statistics, U.S. Department of Labor, Occupational Outlook Handbook, 2010-11 Edition, Advertising, Marketing, Promotions, Public Relations, and Sales Managers, on the Internet at http://www.bls.gov/ooh/management/advertising-promotions-and-marketing-managers.htm (visited November 30, 2010).
Employment and Training Administration, U.S. Department of Labor, O*NET Online, Marketing Managers, on the Internet at http://online.onetcenter.org/link/details/11-2021.00 (visited November 30, 2010).