What is the Minimum Age to Work in Idaho?
Idaho Offers a Number of Options for Teenaged Workers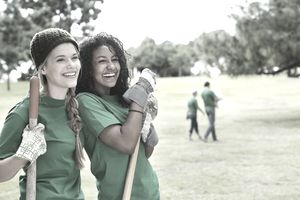 Federal child labor laws state that the minimum age to work is 14 (with some exceptions). State laws, however, may vary. In Idaho, 14-year-olds may work and do not need a special certificate.
What Are the Limitations for Younger Workers in Idaho?
Most jobs available for teens in Idaho go to youngsters age 16 and over. For those between the ages of 14 and 16, special rules do apply. Here are some important facts to know:
Even though the minimum wage in Idaho is $7.25, according to Idaho Law, "New employees under 20 years of age may be paid $4.25 per hour during their first 90 consecutive calendar days of employment with an employer."
Minimum wage does not apply if to "seasonal employees of a nonprofit camping program; or to any child under the age of 16 years working part-time or at odd jobs not exceeding four hours per day with any one employer; or any individual employed in agriculture if such employee is a member of his employer's immediate family."
Certain types of agricultural and non-agricultural jobs are considered to be "too hazardous" for teens under the age of 16.
What Does Idaho Offer to Young Workers?
The Workforce Innovation and Opportunity Act means that Idaho offers a wide range of services to teens age 14 and over. Teens who have particular challenges such as disabilities or financial need can get help in accessing these services.
Here are just a few of the options available to young people, according to the Idaho Department of Labor:
Paid and unpaid work experiences that have as a component academic and occupational education, which may include:

summer employment opportunities and other employment opportunities available throughout the school year
pre-apprenticeship programs
internships and job shadowing
on-the-job training opportunities
Occupational skill training, which may include priority consideration for training programs that lead to recognized postsecondary credentials that are aligned with in-demand industry sectors or occupations in the local area
Education offered concurrently with and in the same context as workforce preparation activities and training for a specific occupation
In addition, teens can turn to the Department of Labor for help with accessing skills training, help in earning a GED, and much more.