Job Facts About the Marine Corps Motor Transport
This Marine Occupational Field Includes Drivers and Vehicle Mechanics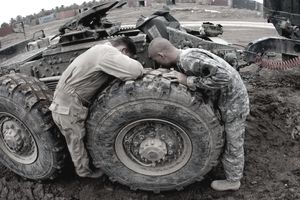 In the Marine Corps, each job, or military occupational specialty (MOS) and related jobs are classified within occupational fields (OccFlds). The motor transport OccFld includes operations and maintenance functions for tactical and commercial motor vehicle services. Marines aspiring to this MOS will need a good driving record and should have some experience working on and maintaining motor vehicles.
This is also a job that requires the ability to work closely with others as part of a team. 
Motor transport Marines will be required to learn military vehicle operator and maintenance procedures, personnel and operations management techniques, preparation of orders and directives, and record-keeping procedures. Formal schooling and standardized training is provided to Marines entering the OccFld. 
Entry-level jobs available include work as a light or heavy vehicle operator and organizational or intermediate maintenance mechanic. There is a wide variety of billets available in the OccFld, including duty at all staff levels of the division, wing, and force service support group as well as the opportunity to serve in smaller units.
Marines entering this OccFld will receive MOS 3500, basic motor transport. Here are some of the Marine Corps enlisted MOS organized under this occupational field.
3521 Automotive Organizational Mechanic
This is a pretty straightforward job with a lot of responsibility. The automotive organizational mechanic services, inspects, maintains, and repairs motor transport equipment. These vehicles include fuel and water tankers, seven-ton trucks and high mobility multipurpose wheeled vehicles (HMMWVs), better known as Humvees.
3522 Automotive Intermediate Mechanic
This is the next step up from automotive organizational mechanic, and adds rebuilding of automotive components of tactical transport equipment to the list of duties. Marines must have six months' experience as MOS 3521 to qualify, and need to complete the automotive intermediate maintenance course. 
3523 Logistics Vehicle System Mechanic
These mechanics provide intermediate level inspection of motor vehicles, including diagnosis and maintenance of power train, air induction, exhaust, hydraulic, cooling, electrical, fuel, brake, steering and suspension components for the LVS series vehicle. They'll need to complete the automotive intermediate maintenance course, and the logistics vehicle maintenance course at Camp Johnson in Jacksonville, North Carolina. 
3534 Semitrailer Refueler operator
Semitrailer refueler mechanics operate and maintain the M931 and MK3l tactical tractors and the M970 and MK970 semitrailer refuelers. They're  trained to conduct fueling and defueling operations for all aviation and ground vehicles.
To qualify for this MOS, Marines need 12 months' experience as an MOS 3531 or MOS 3533. They'll complete a semitrailer refueler operator course at Fort Leonard Wood in Missouri.
3526 Crash/Fire/Rescue Vehicle Mechanic
These mechanics inspect, service, maintain, and repair crash, fire, and rescue vehicles. They'll need a mechanical maintenance (MM) score of 95 or higher on the Armed Services Vocational Aptitude Battery (ASVAB), and have either MOS 3521, 3522 or 3529. 
3529 Motor Transport Maintenance Chief
This MOS supervises the maintenance, repair, and inspection of motor transport vehicles, and directs the activities of assigned enlisted personnel in a motor transport repair shop or facility. They assist the motor transport maintenance officer in all duties and tasks.
In order to qualify for this MOS, Marines need a mechanical maintenance (MM) score of 95 or higher on the Armed Services Vocational Aptitude Battery (ASVAB), and will likely need to complete the motor transport career course at Camp Lejeune in Jacksonville, North Carolina, at their commanding officer's discretion.
For the complete list of all MOS under the motor transport occupational field, refer to  MCBUL 1200, parts 2 and 3