Get a New Business Congratulations Letter Example
Ideas and Phrases for Inspiration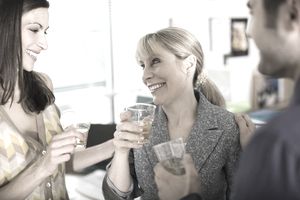 Approximately 543,000 new businesses are started every month, and even more close down than that during the same time! According to the Small Business Administration, 70 percent of new businesses survive at least two years, half last five years, a third are around a decade later, and just 25 percent are still in business at the 15-year mark. 
Given how difficult it is to start a business and maintain its success, reach out and congratulate your colleague who's done so.
Here is a congratulations letter example you can use to send to an associate who has started a new venture.
New Business Congratulations Letter Example:
Dear Jim,

Congratulations on your new venture. I'm so proud to have been your colleague at [name of last company] where I observed your sharp intellect and drive. I have every confidence that you will succeed flying solo and that the Irvington Company will be a mover and shaker. You are a trendsetter and very savvy to start this business innovation.

I'm looking forward to doing business with you.

Regards,
Sample Congratulatory Remarks
I saw your ad in Marketing Communication Magazine. So happy to see that your business is off to a running start.
I'm so thrilled for you–opening your own business is a milestone.
Your business idea is a brilliant–in fact, I wish I created it myself!
Congratulations on opening your new store--you've chosen the perfect location.
Your new store and displays are eye catching--I'm sure customers will feel the same!
We've needed a practice like yours in the community for some time--thank you for bringing us your services.
Congratulations on your new venture; opening your own business certainly is a mark of distinction.
I admire your foresight in opening your new store; I expect business will be booming in no time!
I'm sure it's a great feeling of accomplishment to hang up your own shingle. Congratulations on your efforts.
I enjoyed working with you previously at [name of last company] and I'm sure your drive and dedication will make this business a success.
I'm so proud to have been your colleague at [name of last company]. You no doubt have the intellect and drive to now fly solo. 
I admire your courage, persistence, and determination in pursuing this new and exciting path.
You have always been a leader and I have no doubt you'll lead this new venture to success.
I know this business has long been a dream of yours; congratulations on making it a reality.
I wish you all the success in the world as you embark on this new adventure.
You've worked harder than anyone I know--if anyone deserves success, it's you.
I wish you prosperity as you build the business.
Here's to your success in the years to come.
I look forward to seeing a multi-million dollar company shortly.
I anticipate seeing great things from you in the future.