Welome Letter Samples: Schedule a Meeting Before Start Date
These Samples Welcome the New Employee and Strive for an Early Meeting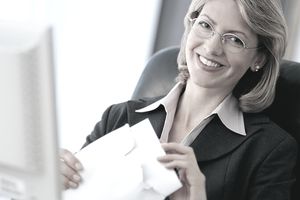 Want to get a jump on new employee onboarding and continue to build your relationship with your new employee? Use these welcome letters to invite a new employee to meet with you prior to his or her start date.
No pressure, really, but if the new employee is available, this meeting helps you welcome the new employee with an agreed upon schedule. Consider holding this welcome meeting on the phone, too.
Following are two welcome letters that try to set up a time for a pre-start date planning meeting with your new employee. Note that both of these employees have been hired for exempt jobs.
Sample Letter to Set Up a Pre-start Date Planning Meeting with the New Employee
Date
Name of New Employee
New Employee Address
City, State, Zip Code
Dear (New Employee Name):
If you're available in the week before your start date at Georgian Bay Company, I'd like to get together in person or on the phone. This will allow me to answer any questions that you may have about the benefits package and other issues that may have come up since you accepted our job offer.
We can include our Human Resources manager for part of the meeting. He'd like to welcome you to Georgian Bay, too.
We can also spend time discussing your onboarding process. We've designed a series of activities and meetings that should bring you up-to-speed quickly in your new job.
I can also answer any questions that you may have about Georgian Bay Company.
When you start a new job at Georgian Bay, we assign a senior employee as your new employee mentor. This meeting will give you the opportunity to meet her, too.
Finally, I'd like to provide you with early access to our employee wiki.
If you have time prior to your start date, the information on the wiki provides a wide range of background information, access to the employee handbook, and answers to any general questions you may have about Georgian Bay Company.
Since the wiki is open access for any employee, some of the quirkiness of your new coworkers will be apparent to you, too.
I understand if you are away on vacation or have other plans during this week before starting your new job. Assuming you are in the area, just let me know a potential time to talk, or, if your schedule allows, I'd enjoy meeting with you at Georgian Bay.
Again, welcome to the Georgian Bay team. We look forward to having you come on board.
Regards,
Signature - First Name of Boss
Name of the Department Manager / Boss
Sample Letter to Set Up a Planning Meeting with the New Employee
The following welcome letter attempts to set up a time for a planning meeting with your new employee prior to his start date.
Date
John W. Smith
1832 Hamburg Trail
Sterling Heights, MI 00000
Dear John,
On behalf of the employee selection team, we're so happy to welcome you to St. Thomas Hospital as our newest Physician's Assistant. We know that you will find the work both challenging and personally and professionally fulfilling.
The doctors you will work with as PA are as excited as we are and look forward to having you serve in this crucial role on the team. They have been short PA help for quite awhile and feel the void keenly.
With the hectic pace at the hospital and the unknown patient service numbers on any given day, I'd like to meet with you prior to your start date so that we can cover basic information you'll need to get started. Our HR generalist, Kaitlin Law, whom you met while interviewing, would also like to sit in on this meeting to share benefits information, the employee handbook, and other orientation necessities.
I'd also like to share the on-the-job training that we have planned for you so that you can learn our procedures and approach to patient care. One of the other PAs, Sarah Swift, in your new department has volunteered to serve as your mentor while you acclimate and become comfortable in your new role.
She will meet with you on your first day at the hospital to go over the basics.
We understand that many new employees use the time between the end of their former job and the start of their new job as a time for vacations and personal business. So, we completely understand if you are not available for this meeting. If you are, however, the transition will go more smoothly.
Please text me to respond and we can set a date if you are available. My cell is 714-221-3245.
Sincerely,
Mary Wade
Director of Human Resources
These new employee welcome letters have a second purpose: to set up a meeting with the new employee prior to their starting day. It's an effective way to welcome a new employee.
More Sample New Employee Announcements
Sample New Employee Welcome Letters
New Employee Welcome Letter: Schedule a Meeting Before Start Date