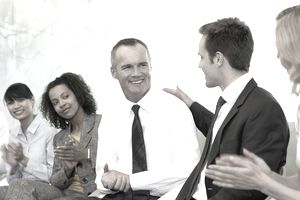 You're excited about the new job you just got hired for, and you want to announce it to everyone you know. You also have a professional responsibility to alert your team members and / or clients to this rising move so that they will have time to plan for and adjust to a new succession. What is the best way to share the news?
When to Send an Announcement
First of all, don't mention your new job until your job offer is confirmed, you have a start date, you've signed the dotted line on your hiring contract, and it's a done deal.
It's not a good idea to announce anything until you are absolutely sure it's going to happen. Employers have been known to retract job offers, or something else may happen where the job doesn't work out.
What to Write
What you say in your letter or email message depends on who you're writing to. You could tell your coworkers how much you have enjoyed working with them and how much you'll miss them, even though you are thrilled with your new position.
Your messages to clients and business contacts should be brief and include the basics – the fact that you are moving on and where you can be reached.  When telling your connections, mention how pleased you are to be starting your new job. If any of your contacts helped with your job search, this is a good time to thank them for their assistance.
In all cases, keep the tone of your message positive even if you're leaving because of problems at work or with the company.
There's no point in bringing up anything negative regarding your departure.
In general, your letter should include these facts:
You're leaving your current job
When you are leaving
What your new position will be
When you start the new job
How much you're looking forward to your new role
How to stay connected (share email, phone, LinkedIn, social media information)
The following will be specific to the person you're writing to:
Thanks for the opportunities at the old job 
You'll miss the person you worked with
Thanks for help in getting you the new job
How your transition to a new job will impact your client relationship 
More: How to Say Goodbye When You Leave Your Job
How to Send a New Job Announcement
Email or a LinkedIn message are both appropriate for announcing a position or career change. However, if you want to make a more formal announcement, consider sending a letter, note, or card with your new contact information.
It's a good idea to discuss how you should tell your current company's clients with your manager before you send an announcement to be sure you're both on the same page. It will also preclude any confidentiality issues if you have signed an agreement. If you signed a non-disclosure agreement (NDA) that included a clause that client lists are confidential and the property of your employer, then you could potentially open yourself to legal action should you yourself attempt to contact a current or former client to inform them of your career change.
A - Z of New Job Announcements
The following is a list of email messages and letters you can use to announce your new job to colleagues, clients, and business and personal connections.
By taking the time to notify your peers, business associates, and clients about your acceptance of a new position, you can effectively maintain and strengthen your professional network – a continuing asset that can both provide resources to help you excel in your new role or, in a worst case scenario, serve as a safety net if your new job fails to work out and you must seek alternate opportunities.
More About Moving On: How to Say Goodbye | How to Resign